LR41 battery replacement refers to a variety of batteries with similar sizes and specifications to this popular alkaline button cell battery. You can use them as a direct replacement if you need one for your device, but it is unavailable.
Despite the similarities, these batteries have different compositions, such as silver oxide and alkaline. They are labeled differently by other companies, and sometimes these battery labels confuse users if they are interchangeable.
The LR41 Features And Specifications
The LR41 is like a small button with a coin-like round shape. Measuring approximately 7.9 mm in diameter, 3.6 mm in height, and weighing about 0.1 grams, it has power capability from 25 to 32mAh, with a nominal voltage of 1.50 Volts.
On the surface, you can see the label "Zero percent Hg", meaning it doesn't contain mercury. That said, it is less damaging to the environment than several other batteries, and it is safer if the battery leaks.
Regarding composition, batteries on the market are available in several chemistries. In the case of the LR41, this is alkaline, with similarly sized variants in silver oxide. It means similar batteries could be interchangeable. Although the rechargeable feature is not applied, you could find another one that uses alkaline or other chemicals.
List of LR41 Battery Equivalent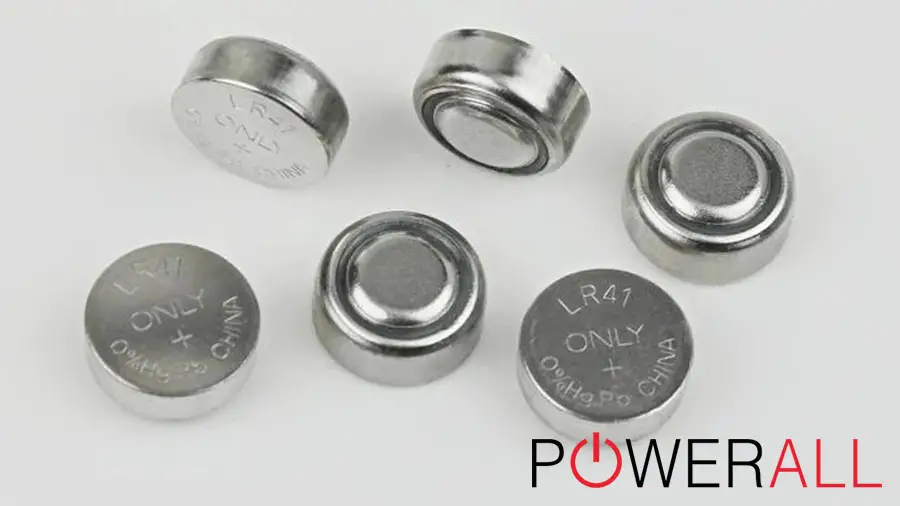 There is a wide range of options for the equivalents. The first name on the list is the AG3 coin cell battery. It is considered the perfect replacement battery due to its size, output, and capacity similarities.
Not only the AG3, there are also direct replacements such as: SR41, LR736, L736F, V3GA, V36A, A63, GP192, G3, Seiko SB-A1, Seiko SB-B1, 92A, 384, 325, 192, 392A, 392, and SR41SW. These substitutes can be used interchangeably with the LR41 button-type battery because of their nearly identical specifications.
Alkaline
The LR41 is an alkaline battery. To create power, zinc and manganese are used as electrodes, and electrons are passed through an alkaline solution.
One strong point of alkaline button batteries is their low price, costing only a few dollars. This alkaline-based one is for one-time use, yet it is quite environment-friendly.
Thanks to the popularity of alkaline batteries, you can easily find another in stores. Please keep several names as exact equivalents in mind: V36A, LR736, AG3, 192, V3GA, Seiko SB-A1, Seiko SB-B1, and RW87.
| | | | | | |
| --- | --- | --- | --- | --- | --- |
| Battery Equivalent | Brand | Voltage | Capacity | Diameter x Height | Amazon Price |
| V36A | Duracell | 1.5 V | 25-32 mAh | 7.9 mm x 3.6 mm | – |
| LR736 | Energizer, Rayovac | 1.5 V | 25-32 mAh | 7.9 mm x 3.6 mm | Check price |
| AG3 | Swatch, Energizer, Maxell, Panasonic, Toshiba, Sony | 1.5 V | 25-32 mAh | 7.9 mm x 3.6 mm | Check price |
| 192 | Varta | 1.5 V | 25-32 mAh | 7.9 mm x 3.6 mm | Check price |
| V3GA | Varta | 1.5 V | 25-32 mAh | 7.9 mm x 3.6 mm | Check price |
| Seiko SB-A1 | Seiko | 1.5 V | 25-32 mAh | 7.9 mm x 3.6 mm | Check price |
| Seiko SB-B1 | Seiko | 1.5 V | 25-32 mAh | 7.9 mm x 3.6 mm | Check price |
| RW87 | Renata | 1.5 V | 25-32 mAh | 7.9 mm x 3.6 mm | Check price |
Silver-Oxide
The Silver-Oxide SR41 batteries are suitable replacements for the LR41.
The voltage of a silver-oxide SR41 battery is often 1.55 volts, quite similar to the voltage of an alkaline one. However, the nominal capacity is between 38 – 45 mAh. It is a larger capacity when compared with an alkaline-based one, which only ranges from 25 to 32 mAh. That said, it can store nearly twice as much energy as an alkaline one.
Besides, this chemistry gives a very low drain performance, allowing low-drain SR41 batteries to work over extended periods in low-use devices such as wristwatches.
One huge advantage of silver-oxide SR41 batteries is the steady discharge characteristic. That means they release more evenly in comparison to alkaline batteries. This feature is essential for powering electronic devices or wearable electronic gadgets that require a more constant flow of power, like wristwatches and LED flashlights. The SR41 will also have around ten years of shelf life.
If you are looking for a silver-oxide replacement, the most exact equivalents worth considering are SR41, SR41W, SR736, SG3, SR736PW, 392, 384, and D392:
| | | | | | |
| --- | --- | --- | --- | --- | --- |
| Battery Equivalent | Brand | Voltage | Capacity | Diameter | Amazon Price |
| SR41 | Varta, Camelion, GP, Renata, Sony | 1.5 V | 25-32 mAh | 7.9 mm x 3.6 mm | Check Price |
| SR41W | Energizer | 1.5 V | 25-32 mAh | 7.9 mm x 3.6 mm | Check Price |
| SR736 | Energizer, Rayovac | 1.5 V | 25-32 mAh | 7.9 mm x 3.6 mm | Check Price |
| SG3 | GP | 1.5 V | 25-32 mAh | 7.9 mm x 3.6 mm | Check Price |
| SR736PW | Renata | 1.5 V | 25-32 mAh | 7.9 mm x 3.6 mm | Check Price |
| 392 | Sony | 1.5 V | 25-32 mAh | 7.9 mm x 3.6 mm | Check Price |
| 384 | Camelion | 1.5 V | 25-32 mAh | 7.9 mm x 3.6 mm | Check Price |
| D392 | Energizer | 1.5 V | 25-32 mAh | 7.9 mm x 3.6 mm | Check Price |
The Voltage Of The LR41
The voltage is one of the most important things to consider if you want to select the right power cells for your applications, like basic devices or medical devices. It will show you how powerful the cell is and its electrical potential.
The nominal voltage of the alkaline LR41 is 1.5 volts per battery. If it is a new one, the nominal voltage can be higher, between 1.55 and 1.62 volts. Unlike a silver-oxide power cell with a steadier nominal voltage of 1.55 volts, the voltage of an alkaline-based one will drop over time.
So, mentioning that criteria only, you should use silver-oxide button coin cell batteries to replace alkaline ones. However, you'd better follow your manuals if your applications are sensitive devices.
Usages Of The Battery LR41
These cell batteries are so popular at a low cost and easy to find that they are utilized in a wide variety of applications, including basic devices like clocks, watches, calculators, toys, remote controls, LED flashlights, laser pointers, voice recorders, and medical devices like digital thermometers, glucometers, heart rate monitors, cholesterol testing. With portable electronic devices, wearable electronics, and healthcare devices requiring more energy than usual, you may prefer silver-oxide batteries to alkaline ones.
These gadgets listed above are only a few among a range of applications using that button coin cell battery. The notable thing to remember here is to check the manual to ensure it matches your device.
Instruction To Install The LR41 In Your Device
The first and foremost thing to do for every battery type is to look at and determine the positive and negative ends.
Commonly, the side with a little round protrusion is the negative side, and the other one, which is quite flat, is the positive end.
After you've determined the positive and negative ends correctly, install the button battery carefully into the compartment by aligning each end with the relevant marking on your application. Normally, it is easier to put one end first, then swing it down into the other.
Be careful not to harm or damage any metallic tabs in the compartment when installed because their functions are to help connect and maintain the performance of your device at a good level. If these tabs are slightly moved out of place, the device will not work properly. So, if you accidentally move them out, readjust them back gently.
FAQs
Where To Buy LR41 Batteries?
The LR41 is a common battery produced by large companies and private-label battery manufacturers. So, it is easy for you to find a wide variety of battery labels in online and offline stores from a wide range of retailers. Note that choose a highly reputable retailer as battery expert to buy only high-quality coin-type batteries.
Is LR41 A Lithium Battery?
No. It is an alkaline-based one. Many people misunderstand the letter L in LR41 as representing Lithium. L stands for alkaline chemistry, according to the terminology in the first letter for chemistry.
What Kind Of Energizer Can Replace LR41?
Energizer 392 is a great choice to replace, as the 392 is a silver-oxide one.
Can I Use The LR44 Instead Of The LR41?
Many users confuse them and think they are relevant because they all have the letters LR. We should care about their size and voltage, which are totally different. Therefore, they cannot be interchangeable.
See more: LR44 battery equivalent
Conclusion
The LR41 battery equivalent will help if you need a new one to replace your device's dead one but cannot find another with the same label. Try a wide variety of batteries listed above because they have the same features and are interchangeable. They will keep your device working well without causing any bad effects.
---
---
See more: