Die Hard is not a rising star in the automotive battery industry, having been around since as early as 1967. And remember, car models have undergone thousands of upgrades already; Die Hard should have gone off-trend years ago. 
Yet, to many people's astonishment, the brand is still relevant even to this day, standing alongside other giants as the best-selling batteries in history! 
What's so special about it? Who makes DieHard batteries, and how does it fare against strong competitors like DuraLast? Keep scrolling to learn our take on the matter. 
Who Sells DieHard Batteries? Where Are DieHard Batteries Made? A Brief History
Advance Auto Parts (AAP) is the distributor and supplier behind this class-leading battery. Though Sears was the original producer behind DieHard batteries, they officially became AAP's products after Sears was acquired in 2019.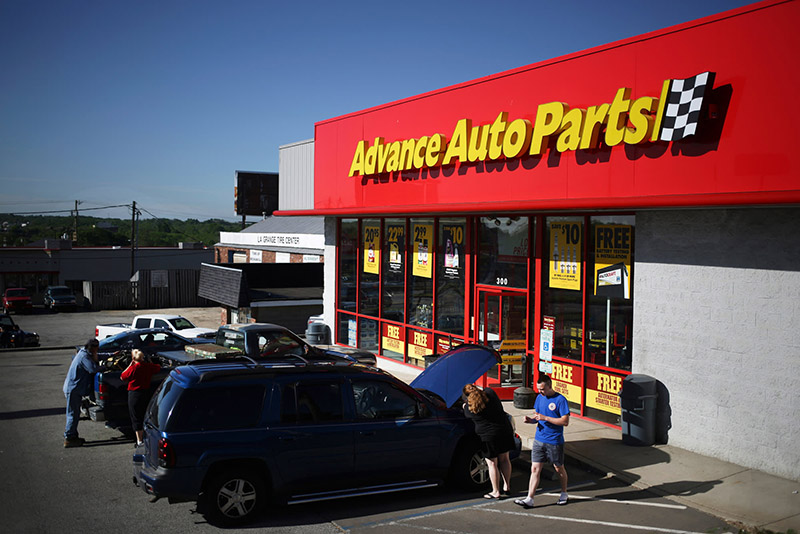 1. An Overview of AAP
Headquartered in North Carolina/ Raleigh, AAP has become a household name all over Canada and the US, with more than 4900 stores and over 150 Worldpac branches. 
Guided under the genius foresight of Arthur Taubman and his successors, the firm never stops astounding every customer with premium, top-notch car parts. 
And it didn't stop there; AAP further extended its reach towards Caicos, Virgin Islands, Bahamas, Turks, and Mexico by operating 1250 Carquest-labeled stores. From private-branded products to OEs, AAP offers thousands of auto options from the best manufacturers. 
2. An Overview of DieHard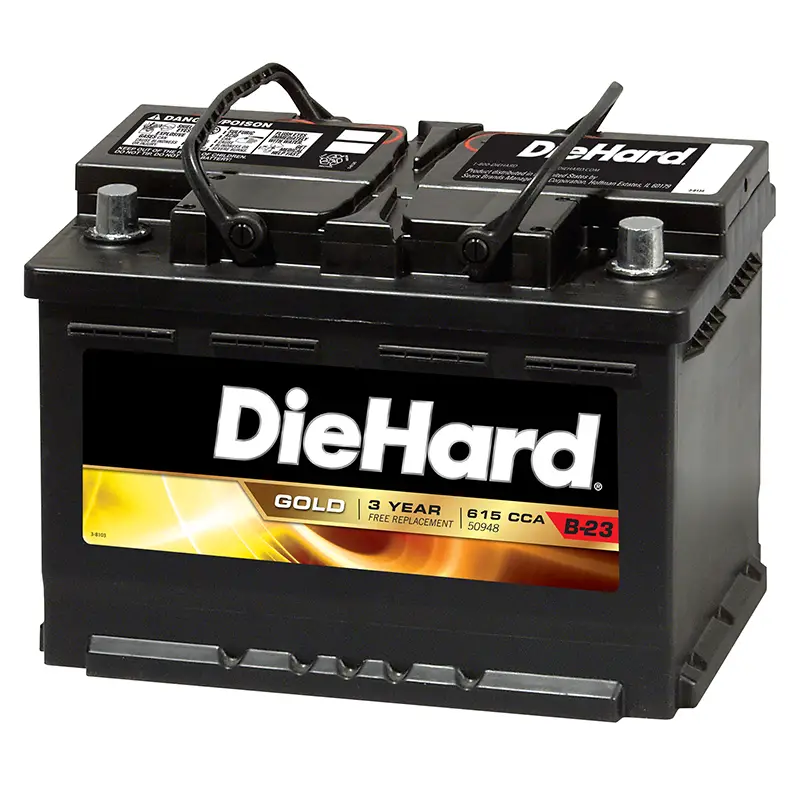 As briefly mentioned, DieHard used to be owned by Sears and produced by Globe-Union. Several years after its 1967 release, the brand was obtained by Johnson Controls, who continued making DieHard batteries before selling its battery division to Clarios. 
Then, in 2019, AAP bought DieHard out from Sears in a $200-million deal and has taken charge of their supplies ever since. 
Fueled by customers' positive feedback and the industry's promising premises, AAP and DieHard aim to boost their battery lines beyond automobiles to suit marine and recreational applications. The world is still waiting to see what they are capable of. 
Do DuraLast and Die Hard Come From The Same Factory?

Long story short: Yes.
Clarios overtook Johnson Controls (Duralast's maker) in 2019, the same year APP acquired Die Hard batteries. Both Duralast and DieHard are currently being manufactured by Clarios and circulated by AutoZone, meaning they are indeed under the same roof now.
The striking resemblance between their names has also been a much-discussed topic: both infer that their batteries cannot be killed easily (Diehard) and last long (Duralast!). Even their naming systems have a lot in common: silver, red, gold, platinum, etc. 
No wonder many readers are curious about their performance and quality against each other – and that is something we will discuss in more detail in the next section. 
Are DieHard Batteries Good? DieHard vs. DuraLast Battery
1. Similarities
There are reasons drivers spend so much time pondering over the two; after all, the similarities between them are remarkable! Let's have a closer look:
Both brand voltages are offered every six cases across two volts on average (6×2 = 12V) – the usual amount needed to run cars in perfect condition. Some higher-end versions from the two deliver even more voltage than that. 
Both share similar warranty periods for each battery stage. By illustration, mid-range options have two-year policies, going up to three years for DuraLast and DieHard Gold varieties. 
They offer an impressive operating temp range (40 to 110°F) that varies across battery models and types. 
Maintenance is a no-brainer. You don't need to do anything else – except follow the simple instructions easily found on any other standard battery. 
Both have maintenance-free versions (DuraLast Gold & Die Hard Platinum AGM), saving time and effort. 
Considering that both have the same manufacturer now, these resemblances do not really come as a surprise! 
All in all, they are both reliable brands that offer great value and performance; the trickier issue is to decide which one matches your specific car model better. Here is where a further breakdown of their differences is needed. 
2. Differences
For comparison sake, our expert team will pitch two models of the same range (ex: Gold vs. Gold, Platinum vs. Platinum) against each other:
a. DuraLast Regular vs. DieHard Red: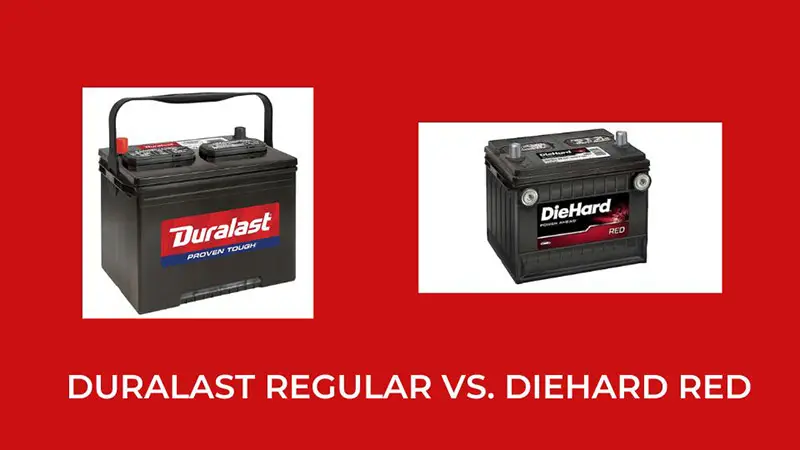 DuraLast Regular: DuraLast's entry-level/starter battery. It produces small spurts of power to ignite the engine before slowly recharging while on the street. It's a terrific option for mid-cars with no fancy accessories or features. 
DieHard Red: DieHard entry-level battery, used mostly for ignition in cars with no bells and whistles. Specs may differ across sizes, but its average specs are as in the chart below: 
| | | |
| --- | --- | --- |
| | DuraLast Regular | DieHard Red |
| Type | Flooded Cell | Flooded Cell |
| CA | 710 | 810 |
| CCA | 575 | 650 |
| RC | 90 | 93 |
| Warranty | 2 years | 1 year |
Verdict: DieHard wins.
b. DuraLast Gold Battery vs. DieHard Gold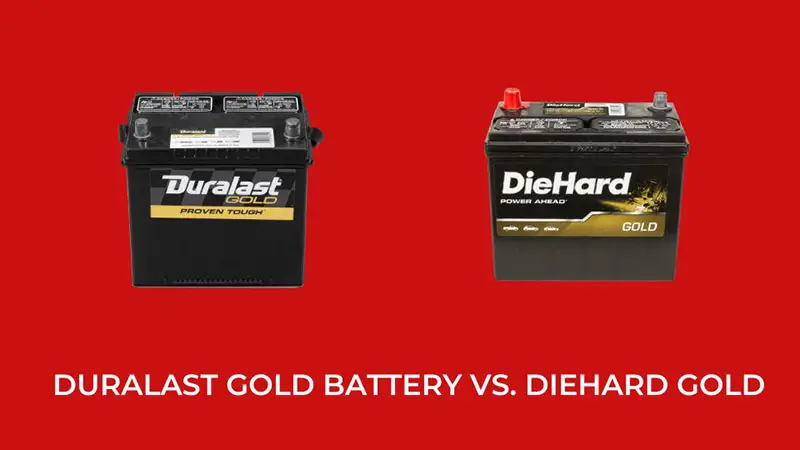 DuraLast Gold: One of the best DuraLast batteries for extreme driving conditions. They work well in lower chills or higher heat than other siblings, with longer warranty periods. 
Such extra functionalities are attributed to their lead plate surfaces, whose sturdy construction advances battery performance. 
DieHard Gold: Though DieHard Gold enjoys greater capacities, corrosion resistance, efficiency, and output than Red or Silver batteries (a huge gap of almost 60%), they are tailored for older vehicle models. 
Hence, owners of newer cars with high-power accessories should not put too much hope in them.
| | | |
| --- | --- | --- |
| | DuraLast Gold | DieHard Gold |
| Type | Flooded Cell | Flooded Cell |
| CA | 765 | 800 |
| CCA | 640 | 640 |
| RC | 100 | 100 |
| Warranty | 3 years | 3 years |
Verdict: A close tie measurement-wise. Still, we lend the victory to DuraLast, as its batteries are more compatible with new vehicle models. 
c. DuraLast Platinum vs. DieHard Platinum Batteries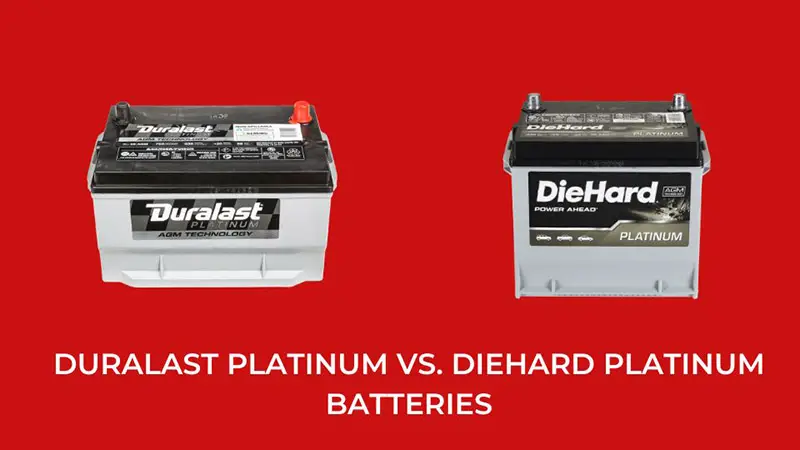 DuraLast Platinum: AutoZone's latest response to customers' increasing power demand for marine batteries. 
These deep-cycle devices were originally designed for boats and military vehicles, generating lower current amounts for longer than average. 
Fortunately, with many tweaks and updates, they now also fit off-road power vehicles and cars with electrical accessories. 
DieHard Platinum: With stamped grids similar to Gold, DieHard Platinum can also handle extreme temperatures using 20% less power and emissions. 
Mid-range features cannot challenge them at all. However, in the case of start-stop vehicles, these batteries might be a bit troublesome to work with. 
| | | |
| --- | --- | --- |
| | DuraLast Platinum | DieHard Platinum |
| Type | Sealed AGM | Flooded Cell |
| CA | 885 | 1000 |
| CCA | 710 | 800 |
| RC | 120 | 115 |
| Warranty | 3 years | 3 years |
Verdict: Another draw. DieHard Platinum might have higher CA and CCA, but its inferior RC and less sturdy construction have tipped back the scales in DuraLast's favor. 
3. Overall: Who Wins? 
DieHard is the winner in this intense face-off, though it's a narrow victory; DuraLast admittedly is quite on par with DieHard in almost every aspect. 
Still, DieHard gains the upper hand thanks to its eco-friendly nature, being kinder to our planet with recycled components and less emission. Environment-conscious customers like us definitely place trust on this brand.
Regardless of which you go to, both of their power delivery will far exceed almost anything else you see on the market. 
Where To Buy Die Hard Batteries? 
1. Advance Auto Part
Of course, where else to find better DieHard batteries than their official distributors? AAP offers the best balance of convenience, price, and quality, with consistently high customer ratings. 
Most batteries (not just DieHard, but even other brands under AAP) have three-year warranty policies that allow zero-cost replacements. 
Even though the upfront prices might not be as low as other platforms (say, Walmart), buying online from Amazon websites can save you more than 30%!
The free battery installation and testing set AAP's services apart from others. If needed, you can even replace the batteries yourself behind their parking area – and the staff will be more than willing to lend you their power tools and other equipment! Quite a crowd-pleaser for all DIY enthusiasts. 
Specs:
Core charge: $22, refundable
Deliveries: In-store pickups 
Pros
Online buying
Great replacement warranties
Free installation
Con
2. Walmart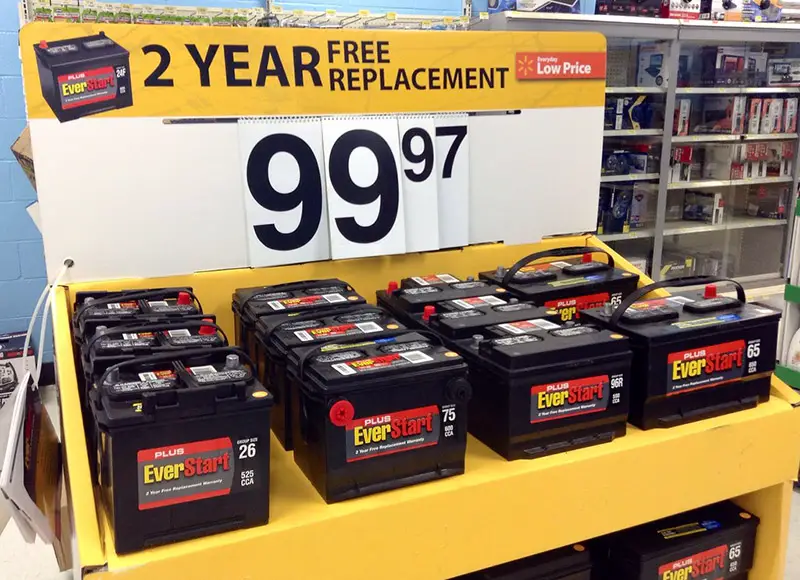 Hands down, Walmart is second to none when it comes to competitive prices. 
Like with AAP, Walmart allows online orders for later in-store pickups. They also provide battery installation and testing at zero cost, though only for stores with automotive centers.
Changing the batteries on your own is allowed in Walmart's parking lot, though you have to use your own tools. 
Specs:
Core Charge: $12, refundable
Deliveries: In-store pickups
Pros:
Very cheap
Great replacement warranties
Many branches
Cons:
Free installation is not available in every store
Limited selection
3. Amazon
Name one thing that Amazon does not sell. Mission impossible!
While we admit Amazon products do not have the most competitive prices, their selections are super impressive. Almost every automobile brand – let alone DieHard – is available here, ready to be shipped straight to your doorstep! 
Unlike Walmart and AAP, Amazon has no installation or battery testing services. Sure, the platform can recommend/ sell you instruction manuals and battery testers, but it will not send any technician to your house. 
Specs:
Core Charge: None
Deliveries: Home deliveries
Pros
Impressive selection
Great warranty replacement and return policy
Fast shipping
Cons
The diverse options can be overwhelming for some beginners
No installation/testing services
Tips to Make DieHard Batteries Last Longer
Don't want to drop by a battery store too often? Keep these extra tips in mind: 
Avoid Short Rides. Quick, short rides prevent full charging. Manage your battery power by taking the car on frequent and extended driving. 
Fasten The Battery Tightly. Loosely-fastened batteries will vibrate, leading to short circuits and internal damage.
Switch Off Every Light Upon Exit. Accidentally keeping the car door light and headlights on will take a toll on the battery. Scared that you will forget it? Put some notes or sticker reminders on the dashboard. 
Conclusion
Unless you have never bought a battery yourself, DieHard qualities are never questioned. Despite certain flaws (which is to be expected; nothing is perfect), their superior performances are matched by none, surpassing all your driving and capability expectations!
If you still struggle to pick a good battery, contact AAP (DieHard main distributor) or our expert team for advice.