Nowadays, cordless devices have become mainstream, which has revitalized the compatible battery market. And the giant Milwaukee didn't stay behind the trend; it invested in 18 volts rated sources many years ago. 
Its rapid development of R&D has spawned a broad portfolio with four distinct product lines. If you have no idea what to buy, scroll down to learn about Milwaukee battery sizes.
Milwaukee Batteries Explained 
The manufacturer uses acronyms to represent the battery type. All the products are compatible with any of the M18 Milwaukee tools, but each possesses one characteristic that sets it apart from the rest. 
You may come across a duplicate serial number in two categories. These digits represent the estimated charge capacity and run time. For example, High Output and Compact both have a 3.0 Ah option but do not point to the same item. 
Compact (CP) Packs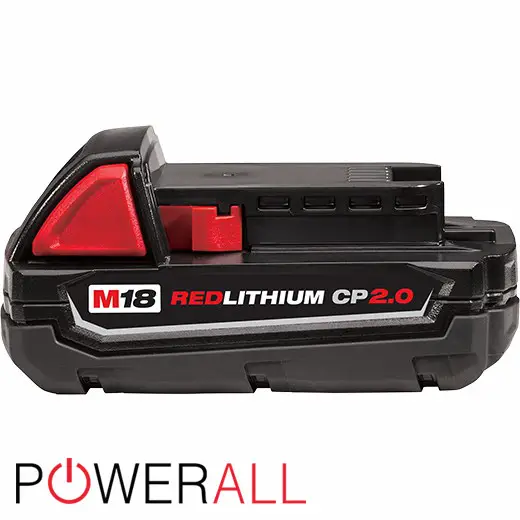 Available models: 1.5 Ah (48-11-1815), 2.0 Ah (48-11-1820)
This category has 18650 cell technology, meaning the cell size equals 18×85 mm. Its internal component contains 5 Li-ion cells.
The CP label is relatively new to the market. As the name implies, the biggest benefit of this choice is its compact size and lightweight, and it also serves fast charging time. On the downside, its running time is the shortest, so the power supply is less.
As recommended by the manufacturer, these batteries work best in small tools during repetitive operations. Some outstanding applications include PEX extenders, impact drivers, nailing machines, etc.
Extended Capacity (XC) Packs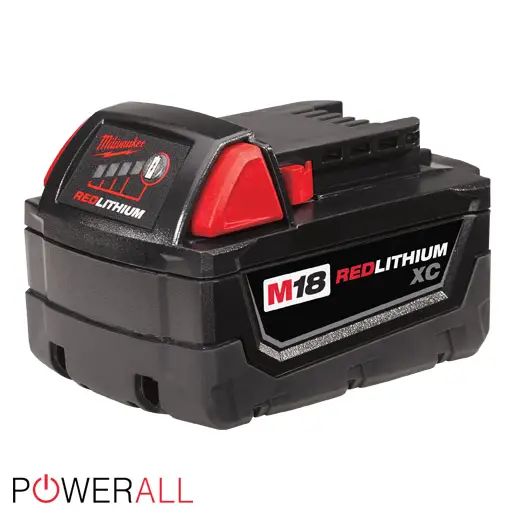 Available models: 3.0 Ah (48-11-1828), 4.0 Ah (48-11-1840), 5.0 Ah (48-11-1850) và 6.0 Ah (48-11-1860)
Like the series above, these batteries come in 18650 and 10 Li-ion cell types. Their selling points are the increased efficient runtime and power compared to CP batteries despite their moderate size and weight.
Unless there are intentional changes, this option boosts energy for certain tools. For instance, the "XC effect" increases power by 10% when the XC pack comes with the M18 drill bit.
This feature is ideal for powering medium tools such as hammer drills, mini lights, drills, small Sawzalls, etc. Still, the device's capacity should remain average because the running time of these batteries is not the most optimal.
High Demand (HD) Packs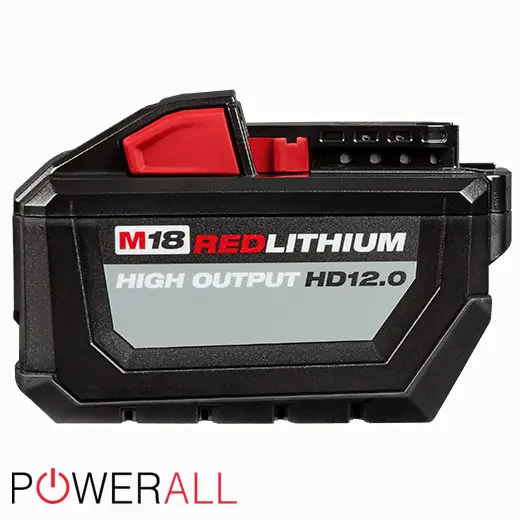 Available models: 9.0 Ah (48-11-1890)
The 18650 cell still applies to the third product line, but the 15 Li-ion construction makes it different. Upgraded battery technology contributed to more power and hours of runtime.
The manufacturer has released HD products to meet the heaviest load needs of the M18 cordless tools. You can count on stable output for outdoor power tools, table saws, Super Sawzalls, or 9" angle grinders.
Sadly, these batteries tend to generate a lot of heat during operation. This can lead to overheating in extreme conditions and trigger undesired tasks.
Do not worry too much; the manufacturer has provided preventive measures for this problem. The thermal overload protection function comes in handy to keep the battery from damage.
High Output (HO) Packs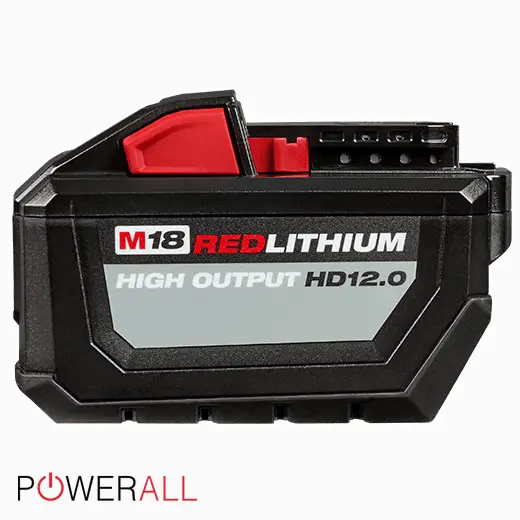 Available models: 3.0 Ah (48-11-1880), 6.0 Ah (48-11-1865), .0 Ah (48-11-1880), and 12.0 Ah (48-11- 1812)
Milwaukee launched the High Output series in 2018 to catch up with the advanced innovation in the market – 21700 Cell Technology. The cell size is now 21×70 mm, so you can notice the battery size also increased.
The larger Dimension affects tools with a belt or a small battery case, although this option is advertised for all M18 devices. Some users find it inconvenient to adjust the compartment to accept a wider footprint.
Fortunately, the manufacturer is committed to providing free upgrades for tools that do not conform to HO 12.0. Plus, users can enjoy added benefits, especially for low-temperature applications or the Next Breakthrough tools of Milwaukee.
New technology enhances productivity and run time while reducing heat loss. The variety of sizes also simplifies choosing the best item for your application. Small batteries are good for ergonomics, while larger ones do well at runtime.
The best part is that these batteries cost the same as the versions with the same amp-hour rating. Who could turn down such a cost-effective investment?
Milwaukee Battery Differences: A Full Guide To M18 Models 
1.5 Ah Compact Redlithium
Wattage rating: 27 Wh
Weight: 0.95 lbs
This option has been around for many years and received favor for its compactness. The low capacity suits light-duty tasks on hand tools such as light drills, screwdrivers, or punch lists. Plus, it's an affordable investment for newbies.
2.0 Ah Redlithium CP 2.0
Wattage rating: 36 Wh
Weight: 1.1 lbs
The 2.0 Compact battery pack offers 33% more capacity than its predecessor. Interestingly, the cell upgrade did not have much effect on the size. 
The feature superiority adds a few dollars to the price but is still economical. 
Feel free to use it for light projects or the M18 Fuel circular saw in the final cuts. Another unexpected use for weight decrease is compatibility with impact, hydraulic drivers, or Milwaukee drills. 
Prepare two batteries and a fast charger, then alternate between the two packs to meet your basic needs.
3.0 Ah RedLithium XC Extended Capacity 
Wattage rating: 54 Wh
Weight: 1.69 lbs
The essence of XC 3.0 develops from the original 2P expansion capacity pack. It is heavier than the two options above, but it delivers a smooth operation on more powerful tools in return.
Unfortunately, it is not as popular as the big brothers in the same family (ex: 4.0 or 5.0 Ah types). It also faces a bleak future where the High Output choice with the same amp-hour rating (3.0 Ah) at only half the size dominates the market.
3.0 Ah Redlithium High Output CP 3.0
Wattage rating: 54 Wh
Weight: 1.33 lbs
It also has a 1P battery pack, but this version features advanced technology that allows it to deliver 54 Wh output. The power is leveled up by 50-100% compared to previous compact versions. At the same time, the cool running function also works 50% better. 
Compared to the XC version with the same amp-hour rating, HP 3.0 reduces weight by 15% and has a smaller footprint.
4.0 Ah Redlithium XC Extended Capacity
Wattage rating: 72 Wh
Weight: 1.72 lbs
In the early days of launch, the 4.0 extended capacity battery took over version 3.0, but the latecomers now threaten its throne. This premium 2P plan offers 33% more capacity to satisfy Milwaukee mid-tier tools.
However, very few retailers are currently selling them as a single battery. Instead, you can find it in multi-packs or boot charger kits.
5.0 Ah Redlithium XC 5.0 Extended Capacity
Wattage rating: 90 Wh
Weight: 1.8 lbs
This one is the most popular 2P battery in the entire lineup. When your lower Ah versions reach the end of their battery lifespan, it is a great upgrade to benefit from 25% more capacity than XC 4.0 and 67% more than XC 3.0.
The powerful output allows it to be adapted to a wide range of products in the M18 Fuel category. If you are willing to trade off shorter run times, consider cutting weight on OPE tools.
6.0 Ah Redlithium XC 6.0 Battery
Wattage rating: 108 Wh
Weight: 1.6 lbs
The XC 6.0 is perfect for powering M18 tools running at medium loads. Rugged construction, smart BMS, and fuel gauge are the significant benefits of this version. 
As good as it might sound, this battery still fails to turn customers' heads. Those looking for a moderate M18 battery often choose the XC 5.0 for its affordable price. 
Meanwhile, users prioritizing high power go for the High Output series with the same average rating.
6.0 Ah Redlithium High Output XC 6.0 Battery
Wattage rating: 108 Wh
Weight: 2.3 lbs
HO 6.0 comes to serve long-lasting high-power M18 tools. The only exceptions are Super Sawzall, and Fuel table saw when they become the main tools in your daily project. Of course, you can solve this problem with super-fast chargers.
This version caters to all the wireless electronic devices that provide the same output as the wired ones. Another big advantage is the cool running feature to prolong battery life.
8.0 Ah Redlithium High Output XC 8.0 Battery
Wattage rating: 144 Wh
Weight: 2.33 lbs
When you exchange the above XC versions for 21700 cell technology, chances are you receive HO 8.0 battery. One thing's for sure; it is a profitable trade-off with a battery performance boost of up to 60%.
This feature satisfies the power needs of rotary hammers, miter saws, or other heavy-duty tools. It is not a good idea for compact devices or those in high or narrow places. Large batteries cause imbalance or excessive pressure under such unfavorable conditions.
9.0 Ah High Demand 9.0 Battery
Wattage rating: 162 Wh
Weight: 2.4 lbs
High Demand batteries are 3P packages designed specifically for the OPE series. Anti-vibration housing, 2x usable capacity, high discharge current, etc., are all the more reasons to perfectly match Hole Hawgs, 7-1/4" circular saws, rotary hammers, etc. 
Note that this option is aimed at steady output rather than fast bursts. The absence of cool operation and ample power, like the High Output series, has made the HD 9.0 gradually obsolete.
12.0 Ah High Output HD 12.0 Battery
Wattage rating: 216 Wh
Weight: 3.4 lbs
HO 12.0 is what you look for maximum power and runtime. You can undoubtedly find it bundled with the latest and most powerful tools, such as the 2732 circular saw, SDS-Max rotary hammer, table saw, Super Sawzall, and a 9" angle grinder.
If you don't mind the extra battery weight, this item helps push the Switch Tank's performance to the next level. This principle also makes sense with products you do not have to carry around constantly.
Milwaukee High Output Battery vs. Standard In Comparison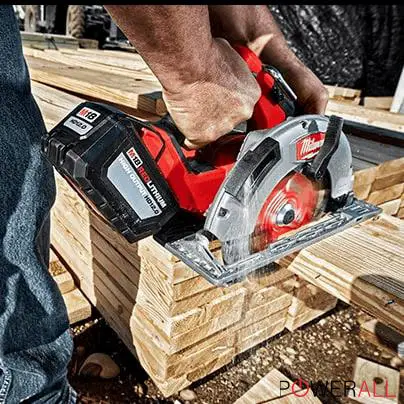 Milwaukee released the High Output series with the ultimate goal of extra power. This is true for new tools compatible with the latest battery version, but are the results still good with older or portable devices?
Technically, the Milwaukee XC vs. High Output has a clear distinction: cell technology. As mentioned above, 21700 cells are the modern technology in the industry with outstanding benefits for great tools. The manufacturer has claimed about "50% more power" and "runs 50% cooler" for its launch.
We conducted a test between two items: XC 4.0 and HD 6.0, on four new additions to the M18 Impact. The basic features of these two are day and night; thus, we have estimated the torque output for an objective conclusion.
The quick answer to the question at the top is YES. The experiment showed a new height in overall performance when the device ran with an HD battery pack. For instance, the 2868-20 model received a 103% boost in efficiency compared to the XC item.
While the claims were initially just a gimmick, the truth is that the HO series supported most of the tools to work better. Of course, small devices like lights or radios don't manifest significant changes except for running time.
Which Milwaukee Battery Is The Best?
The best Milwaukee M18 battery boils down to your personal preference. Answer these questions to narrow your considerations:
What tools do you intend to use the battery for?
Do you prefer long run times or short charging times?
Do you want the most for your investment?
To illustrate, the impact driver or mini drill matches compact batteries, while circular saws should be combined with XC or HD series. 
The second option offers ample power and runtime, but these features come at the expense of long charging times. HO series may confuse you a bit as it is a hybrid between existing product lines.
Last but not least, some customers fall for a 2-pack for the lowest hourly price per APM ratio. Of course, you can also consider the other way around, for example, the highest amp-hours per dollar.
How To Charge Milwaukee M18 Batteries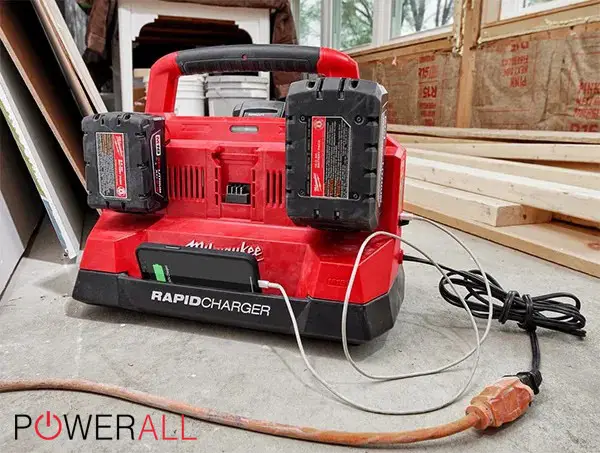 The best way to refill Milwaukee M18 batteries is with chargers from the same brand. Regardless of the number or design of slots, they all get the job done well and safely. Here are some typical examples:  
| | |
| --- | --- |
| Battery Charger Models | Charging amps (Max DC) |
| M18 & M12 Multi-Voltage (48-59-1812) | 3.0  |
| M18 & M12 Rapid (48-59-1808) | 4.5/6.0 (12V/18V) |
| M18 & M12 Super | 4.5/13.5 (12/18V)  |
| M18 AC/DC Wall and Vehicle Charger | 3.1  |
| M18 Six Pack Sequential Charger | 3.5 |
Pay attention to models compatible with M12 systems when equipping multiple batteries simultaneously. There are no accident risks, just a charger that works sequentially with existing items.
Besides, the manufacturer also provides some chargers as battery holders. However, referring to the user manual before storing your goods for a long time on these designs is a good idea. 
Some may drain the battery after an extended period. Plus, the heat generated by the plug-in charger, a harmful agent for performance loss, is not good for the battery's health. 
FAQs
What Is The Longest-Lasting Milwaukee M18 Battery?
The answer is the Milwaukee M18 RedLithium High-Output HD12 battery, which has the highest capacity.
What Is The Strongest Milwaukee M18 Battery?
Undoubtedly, High Output HD12 M18 battery again. 
How Long Do M18 Batteries Last?
You can expect your M18 battery to last for 3-5 years with proper usage and storage manners. 
Can I Charge The Milwaukee M18 Battery Without A Charger?
No. Getting an original Milwaukee charger for your M18 batteries is always best. 
How Do You Store Milwaukee M18 Batteries?
Keep your M18 battery at room temperature and away from water, moisture, or heat exposure. For the best practices, refer to the maintenance instruction from the manufacturer. 
Conclusion
The Milwaukee M18 battery is safe and easy to use with devices from this brand. Do not hesitate to consider this duo for professional projects or DIY tasks. Battery selection can be confusing due to the variety of products. Listen to your requirements, build a Milwaukee M18 battery comparison chart between options in target, and the best will come out.