The CR1220 lithium coin battery is mostly used in high-powered electronics, including thermometers, keychain LED lights, diabetes and heart rate monitors, key-less remote controls, toys, and games.
However, it isn't often you can find a CR1220 battery in your neighborhood shop. Let's find out the closest cr1220 battery equivalent that is now available in our following article.
CR1220 Battery Specs And Details
The CR1220 lithium coin battery has a successful track record for products where conventional batteries cannot be used. The batteries work with a variety of gadgets, including vehicle keys, calculators, exercise equipment, digital watches, laser pens, and medical thermometers.
The quantitative measurement of CR1220 is 12.5 x 2.0 mm (or around 0.4921 × 0.07874 inches). There is a lot of power in one cell thanks to its high voltage of 3V and ultra-compact form. Then you just need one battery instead of two, three, or more ordinary batteries. This provides a strong supply of energy for your little devices.
The CR1220 battery's unique performance and safety traits were subjected to several testing. Additionally, the impacts of external conditions, including temperature, were also examined.
The chemical stability of the lithium coin CR1220 batteries allows them to retain 90% of their nominal capacity even after ten years. The interaction of lithium and manganese dioxide produces durability. 
These batteries' long-lasting endurance has been confirmed at all temperature ranges with lower output scenarios. You can check the specification table provided below for more information.
| | |
| --- | --- |
| Attributes | Parameters |
| Series | CR1220 |
| Weight | 1.2g |
| Max Operating Temperature | 60°C |
| Min Operating Temperature | -30°C |
| Voltage-Rated | 3V |
| Capacity | 35mAh |
| Battery Cell Size | Coin 12.5mm |
| Battery Chemistry | Lithium Manganese Dioxide |
| Discharge Rate | 100μA |
CR1220 Battery Compatible Replacement
At the moment, KCR1220, LM1220, 5012LC, SB-T13, L04, DL1220, DL1220B, ECR1220, BR1220, 280-208,BR1220-1W, CR1220-1W can be used as a replacement for a cr1220 battery. They all offer top-notch performance, and their extended shelf lives make them perfect for usage in a range of products.
Which Battery Comes Closest To A CR1220 Battery Equivalent?
BR1220 is the most comparable equivalent to a CR1220 battery. Both of these products share the same dimensions (0.49Dia x 0.08 H 12.5mmx2.0mm) and voltage-rated (3V). 
The high energy, high dependability BR1220 battery can be used for a spectrum of products. These poly-carbon mono-fluoride lithium batteries (BR-series) can provide a high level of safety and dependability.
BR1220 & CR1220 Battery Compatible Comparison
As they have the same exact dimensions but different chemistry, CR1220 is significantly more prevalent than the BR1220 and has distinct properties regarding battery performance, voltage, thermal efficiency, self-discharge percentage, etc.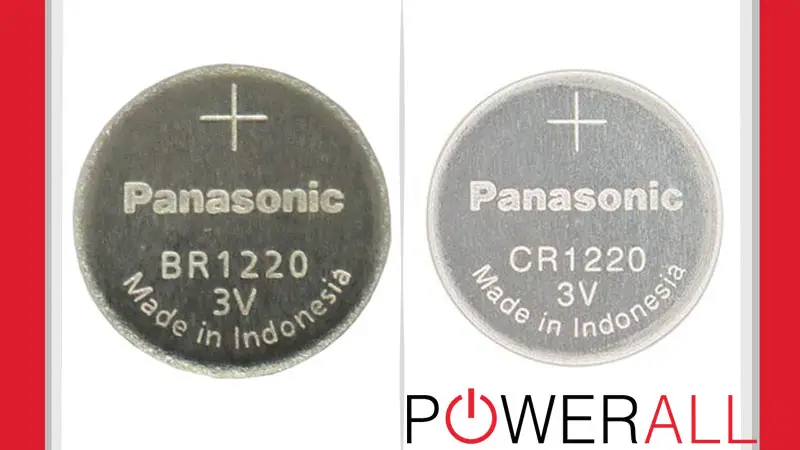 The most popular names for lithium 3.0 coin/ button batteries include BR1220 & CR1220, although other names are also used, as mentioned above.
Both of these 12.5 mm x 2.0 mm button/coin batteries may have different characteristics, which will affect how they discharge. Lithium serves as the negative electrode in BR1220 & CR1220 cells, while carbon monofluoride or manganese dioxide serves as the positive cathode.  
Typically, the average operating temp of CR batteries is between -4°F (-20°C) & 158°F (70°C). 3.0 V is the theoretical value, and 2.0 V is the cutoff voltage.
The CR1220 battery, which has a current capacity 35 to 40 mAh, an effluent discharge rate of 0.05 to 0.1mA, and a high peak discharge rate of 1 mA, is a good demonstration. The battery's lifespan, discharge temp, number of daily pulses, and other factors all affect the actual capacity.
Although there are versions with a shelf-life of up to 10 years, the normal lifespan of the CR1220 depends on the self-discharge speed and generally ranges from four to seven years. The best CR1220 has an average dropout voltage of at least ~ 1% room temperature.
Labels for lithium-carbon-monofluoride batteries begin with the letter "B," therefore the BR1220. The recommended operating range for BR1220 is between -22°F (-30°C) and 185°F (85°C).
The cutoff voltage is 2.0 V, while the rated voltage is 3.0 V. This value is quite comparable to CR1220. 
Regardless of the precise battery technology, BR1220 has a more steady output voltage when compared to CR1220. However, earlier versions of BR1220 batteries have a voltage rating of 2.8-volt & a cutoff value of about 2.25-volt.
The BR1220 battery typically has a capacity of 35 mAh. The maximum load discharge rate is 0.1, while the average output current is less than the typical drain rate of CR1220 batteries at 0.03.
However, BR1220 batteries have an average yearly discharge percentage of less than 1% percent, which results in a lifespan of more than ten years. Perhaps this is crucial for gadgets that need a dependable memory standby battery.
That's why BR1220 & CR1220 batteries may often be used interchangeably. Both products, for instance, are used for low point drain purposes at typical room temperature, while CR1220 cells are the superior option for high point drain purposes. Meanwhile, BR1220 is a superior option for situations that need high temperatures.
Additionally, because the BR1220 batteries have a reduced self-discharge percentage (1% yearly), they are a superior option for motherboard panels. There are CR1220 batteries with self-discharge rates ~ 1% yearly, though; if so, choose a BR1220 or high standard CR1220 instead. 
Similar to how elevated CR1220 can compete with BR1220 regarding lifespan but not operating temp, BR1220 batteries can enable additional runtime (time between battery changes) for timepieces without LED lights and audible alerts.
Comparing The Potential Problems Of CR1220 & BR1220
Because they are compact, shiny things that can be ingested by children and animals, including the other button/coin cell batteries, BR1220 & CR1220 batteries are packaged in what is referred to as "pets-safe" and "kids-safe" containers.
These batteries are extremely harmful when eaten since they can result in serious burns and physical harm to internal organs even if they don't include lead, cadmium, mercury, or other poisonous toxic substances or comparable contaminants.
If these products or any other comparable batteries are ingested, call the emergency room (or doctor) as soon as possible, describe what occurred, and follow their advice.
CR1220 Battery Equivalent Chart
Essential characteristics and specs of some of the most common CR1220 and BR1220 batteries are included in the following comparison chart.
| | | | | | | | |
| --- | --- | --- | --- | --- | --- | --- | --- |
| Model | Voltage | Discharge/charge Cut-Off Voltage | Nameplate Capacity (mAh) | Running Temperature | Self-Discharge Percentage | Standard Discharge Rate  | Amazon Price |
| Panasonic CR1220 | 3V | 2V | 35  | -30°C to 85°C | – | 0.095 mA | Check Price |
| Panasonic BR1220 | 3V | ~2.25 V | 35  | -30°C – +85°C | – | 0.03 mA | Check Price |
| Energizer CR1220 | 3V | 2V | 37 | -30°C – +70°C | ~1% yearly  | 0.046 mA | Check Price |
| Maxell CR1220 | 3V | 2V | 36   | -20°C – +85°C | | 0.1 mA | Check Price |
| Renata CR1220 | 3V | 2V | 35 | -30°C – +70°C | ~1% per year | – | Check Price |
| Varta CR1220 | 3V | 2V | 35  | -20°C – +70°C | | – | Check Price |
CR1220 battery equivalent chart
Since practically all recognized battery manufacturers produce lithium 3V CR1220, it is rather simple to find them available on the internet, in case you could not find them in your neighborhood retail and office equipment stores.
Will A 1216 Battery Work For 1220?
Be careful not to physically harm the device while using smaller BR1216/CR1216 cells in some compartments designed for larger CR1220/BR1220 batteries.
For instance, a very slight height difference of 0.4 mm among BR1220/CR1220 & BR1216/CR1216 can result in contact problems and undependable activity.
---
---
Conclusion
The famous non-rechargeable 12.5 mm x 2.0 mm lithium, 3.0V battery BR1220 can be an awesome CR1220 battery equivalent. They are simple to locate; just make absolutely sure to get them from reliable companies with a lot of good reviews because these packs have already gone through the test by many customers in actual use.
The electrical voltages of CR1220 batteries make them a considerably better option than BR1220 cells in high-drain tasks such as keychain torches, automobile remote keys, remote controls, and similar devices.
Make careful to place your order in accordance with your personal needs & requirements when purchasing these or any other batteries.
See more: