The SR626SW is a coin cell power supply that appears a lot in small home electronics. However, this product is not always available for service. In case of a power supply shortage, which SR626SW battery equivalent will you need to use to get the best performance out of your device?
If you are stuck in this situation, then our article will help you through the 10 most used reliable options below. Scroll down for more information.
Best SR626SW Battery Equivalent
The products we introduce below all have the same coin cell form as the SR626SW. In terms of packaging, the products all share the same plastic wrap design to make it harder to open, helping to protect battery life and prevent children from swallowing it.
And now, it's time to scroll down and explore each product for a more specific insight!
AG4
AG4 is an Alkaline battery manufactured by Bluedot Trading (China). In size, it is quite similar to the SR626SW, with a 6,8 x 2,6mm measurement and a weight of about 1.6 ounces.
The AG4 provides users with a voltage of 1.5 volts with a capacity of about 18mAh. As recommended by the manufacturer, this product is suitable for small technical devices such as digital recorders, wristwatches, mp3 players, or digital cameras.
This non-rechargeable product has a shelf life of 2 years, so you need to make a new replacement (50 pcs per set) every time it runs out of power. In the US, the manufacturer also releases the AG4 with a compatible power plug to conveniently power the devices in your home.
LR626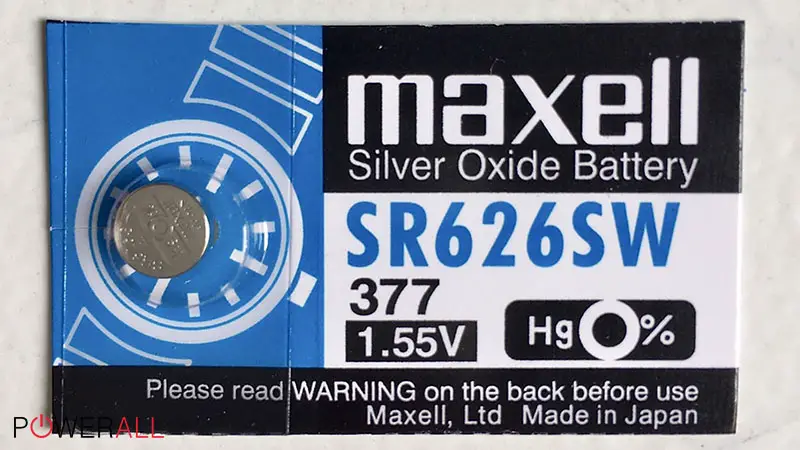 LR626 is one of the most typical 1.5v (18mAh capacity) power supplies from the PKCELL brand. Its physical dimensions are only about 2.6 x6.8mm, much smaller than the AG4.
Thanks to its compact appearance, this Alkaline Button Cell Battery is perfect for home, work, or even travel. Besides, the stainless steel shell allows its shelf life of up to three years.
This product is not rechargeable and is sold in sets of 10 packs. According to the manufacturer's recommendations, the product will reach its ideal operating state if the user does not combine it with other batteries.
The LR626 is suitable for mini calculators, wristwatches, electric thermometers, mini scales, and small devices. However, some users reflect that the sudden drop of the LR626's cut-off voltage makes them not too good for the watch's operation.
LR66
The LR66 offers a 6.8 x 2.6mm dimension in coin form, similar to the LR626. However, it does provide some interesting differences with the SR626SW, as illustrated in the sr626sw battery equivalent chart:
| | | |
| --- | --- | --- |
| | LR66 | SR626SW |
| Chemistry | Alkaline | Silver-Oxide |
| Typical Capacity (mAh) | 15-17 | 25-27 |
| Nominal Voltage (V) | 1.5 | 1.55 |
| End-Point Voltage (V) | 1.0 | 1.2 |
| Voltage's character  | drop over time | constant |
The voltage drop during use (from 1.5 to 1.0 V) greatly helps preserve the product's life. However, operating at low voltage will cause malfunction of sensitive electronic devices, such as digital watches.
When discharging to 1.0 V, the output of the product is about 30% less than Sr626SW and 50% lower at 1.2-volt discharge. According to the manufacturer, it is suitable for toys, mini calculators, or electronic scales.
177/376/377
| | | | | |
| --- | --- | --- | --- | --- |
| | Nominal Voltage (V) | Endpoint Voltage (V) | Capacity(mAh) | Operating temperature (°C) |
| Duracell D377/376 | 1.55  | 1.2 | 24 | 0 – 60 |
| Energizer 377/376 | 1.55 | 1.2 | 25 | 0 – 60 |
| Renata 376 (High Drain) | 1.55 | 1.2 | 27 | -10 – 60  |
| Renata 377 (Low Drain) | 1.55 | 1.2 | 24 | 10 – 60 |
| Varta V377 MF | 1.55 | 1.2 | 28 | 0 – 60 |
This battery category includes several products that can perform extremely well as the SR626SW equivalent (compiled in the chart). If you want detailed insight into each of them, please scroll down for more information! 
Duracell D377/376
The Duracell D377/376 is a low-drain product that measures 6.8 x 2.6 mm and weighs approximately 0.096 ounces. This silver-oxide battery provides nominal and endpoint voltage similar to the SR626Sw, making it suitable for medical devices, laser pointers, digital watches, or calculators. 
Users' feedback shows that Duracell works smoothly, stably, and for a long time. In terms of shelf life, the Duracell D377/376 can serve up to 4 years if stored carefully. 
While other products usually come with at least 10 pcs per set, Duracell D377/376 offers only 1 or 2 packs, a more affordable solution.
Energizer 377/376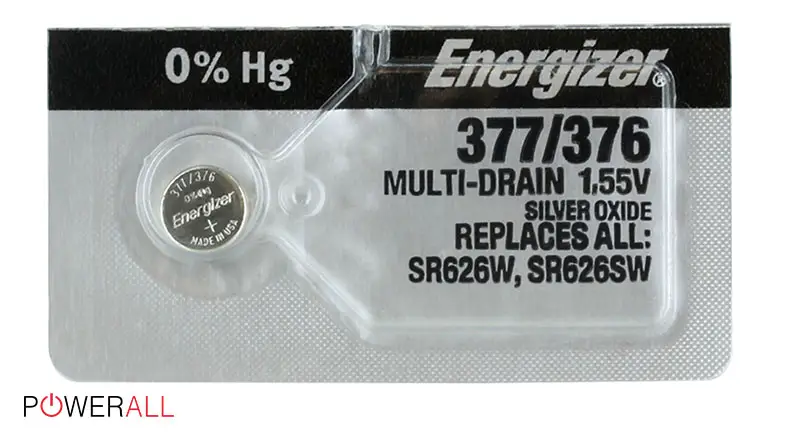 Energizer 377/376 button battery is today's most popular battery replacement for sr626sw due to its perfect voltage compatibility. It offers dimensions of 6.8 x 2.6mm and a weight of 0.32 ounces, with a capacity of up to 25 mAh.
According to the manufacturer's information, you can use this product to power any device compatible with the SR626SW. Multi-drain technology effectively serves low and high-discharge devices with extremely stable currents.
Energizer's test report shows that the product defect rate is less than 1/1000 of 1%, so it has become the choice of countless famous brands, such as Casio, Timex, Fossil, and Swatch.
What sets this product apart from the competition is its shelf life ranging from 4 to 6 years which is perfect for bulk purchases. Energizer 377/376 usually comes with 5 pcs per set, making it a compact and budget-friendly choice.
Renata 376 High Drain
Renata 376 is manufactured by a Swiss company under the management of the Swatch group. This group specializes in producing world-renowned watch models (Breguet, Longines, and Omega), so it receives the trust of brands such as Casio and Fossil.
The 376 sample offers the same size as the SR626Sw (6.8 x 2.6mm) and weighs about 1.6 ounces. Its 27 mAh capacity is far superior to other competitors, with leak resistance and a low self-discharge rate.
Renata products delight users in cold environments with operating temperatures ranging from -10°C to +60°C. If received with care, the product's shelf life can be up to 10 years!
Products from Renata fully meet the requirements of a high-end battery line, so the price tends to be higher than the competition. In particular, it is well suited to keep swiss quartz models running, such as the Tag Heuer, Breitling, and Rolex.
Renata 377 Low Drain
Although the 377 is also from Renata, there are many differences from the 376. While the 376 can serve as a high-discharge device, the 377 low-drain batteries are more suitable for low-discharge equipment.
It offers the same dimension as 376 but is much lighter – only 0.6 ounces. In addition, this 377 set includes only 2 products, while a 376 sample offers 5 batteries per set.
In the past, silver oxide batteries have all contained trace amounts of mercury. But up to now, the manufacturer has eliminated mercury to protect the safety of users and make the product more environmentally friendly.
Varta V377 MF
Weighing in at just 0.353 ounces, the Varta V377 MF is the lightest watch battery sr626sw equivalent on our recommended list. Structurally, it is composed of silver, alkaline-manganese, and lithium cells, which help to maintain a constant flow of energy.
Although the Nominal and endpoint voltage is similar to the Sr626SW, the Varta V377 offers a tremendous capacity of up to 27mAh. Under ideal storage conditions, its average shelf life ranges from 4 to 6 years.
According to the manufacturer, it works best when servicing cameras, wristwatches, remote controls, car keys, and calculators. This product comes with 6 pcs or individually, creating comfort for users when choosing the quantity to buy.
Murata SR626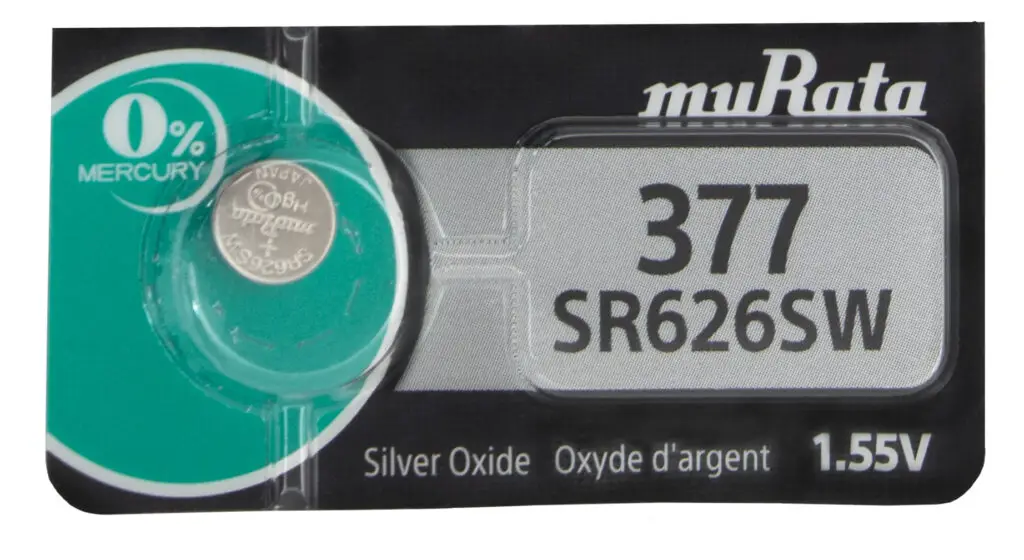 Murata SR626 is a silver-oxide chemistry product that is extremely suitable for medical equipment, quartz watches, and precision measuring devices.
This product is light (about 0.4 ounces) and capable of operating in inclement weather ranging from -10℃ to 60℃. Its composition is leak-proof and extremely environmentally friendly because it does not contain mercury, cadmium, lead, and other harmful chemicals.
Murata SR626 has an extremely stable discharge function with a nominal voltage of about 1.55V (similar to SR626SW). Thanks to Murata's proprietary material mixing technology, the product has a very high energy density and can reach a capacity of 28 mAh. In addition, high-performance separators and antioxidants greatly extend product shelf life by up to 6 years.
SR621SW
Out of our recommendations, the SR621SW is probably the riskiest alternative. While the other options offer the same size as the SR626SW, the SR632SW battery is slightly smaller (approximately 6.8 x 2.1 mm). The area of the device's battery compartment will determine whether this 0.5 mm difference is acceptable.
Although providing the same nominal voltage, the capacity of the SR621SW is only 18-23 mAh, significantly smaller than the SE626SW. As recommended by the manufacturer Maxell, it is suitable for toys, audiobooks, home medical devices, calculators, and more. When stored properly, an SR621SW battery can serve with a shelf life of up to 5 years.
FAQS
What Can I Know From The Letters In Battery's Name?
The abbreviated symbols in the names of the batteries may be intriguing to newcomers. The answer is these symbols tell us more about the chemical classification of that product. Specifically:
Battery codes starting with "L" indicate that the battery is alkaline. Example: LR66, LR626
Battery code starting with "S" indicates that the battery belongs to the "silver-oxide" group. Example: SR626SW, SR621, SR626, SR66
Battery code containing "P" indicates that the product contains a potassium hydroxide electrolyte. Example: MDX 617(P)
Battery code containing "S" indicates that the product contains sodium hydroxide electrolyte. Example: 46B24L(S)
Battery code without "P" and "S" indicates that the battery contains organic electrolytes (Some manufacturers omit these symbols to make product names shorter).
The code after the part number containing "S" indicates that the battery has a sodium hydroxide electrolyte composition. Example: SR626SW, SR621SW
The code after the part number containing "W" indicates that the product conforms to the "IEC 60086-3 watch batteries standard". Specifically, it can serve well for wristwatches and all household electronic devices that use coin cell batteries.
By What Means Can I Replace The SR626SW Watch Battery?
It would be best if you did not skip any of the steps below to replace the Sr626 watch battery:
Step 1: Use a prying tool to find a space on the back of the watch and open it.
Step 2: Use tweezers to remove the old power feed. It would help if you slid the long small plate (near the coin) so that the new battery fits neatly in the battery compartment.
Step 3: When all is successful, you will hear a light click, and the watch will continue working as usual.
Although the above is a detailed guide for at-home replacement, it is still a good idea to take your watch to a repair shop periodically. There, the experts will help you check and eliminate the problem as soon as the watch battery shows wear.
How Do I Know What Size Battery For My Watch?
Follow these 3 ways to determine the battery size you will need for your watch:
Method 1: Check the watch's back (such as the Timex) because it will sometimes contain information about the appropriate battery size. Some watch manufacturers keep this information in the watch case. Basic battery sizes include 364, 280-48, SR626SW, CR1216, and AG1. Then, search for suitable battery products with the same battery size as the battery code you found.
Method 2: You can identify your old battery because usually, products have names imprinted on the surface. If identification is difficult, take it to the nearest watch shop for expert help.
Method 3: Use a ruler to determine the dimension of the battery compartment. To avoid purchasing the wrong power supply, carefully take the measurement several times.
Final Verdict
This article provides useful information about SR626SW battery replacements in this power supply shortage. If you still don't know the best SR626SW battery equivalent, we recommend the Renata 376 High-drain batteries. With extreme temperature adaptability, ideal capacity, and great service life, this product is bound to deliver service beyond your expectations.
See more: