Buying batteries is never easy because you have to consider many factors like internal structures, chemistry, size, type, etc. After deciding on crucial features, it is time to come up with a brand name. 
Among the countless manufacturers, who makes the most reliable product? Let's compare the two top contenders – Duracell vs. Amazon batteries.
Amazon Basics And Duracell At Quick Glance 
Amazon Basics
Amazon Basics is a newcomer to the consumer battery industry. Retail giant Amazon owns the brand, but third-party factories manufacture the products.
So who makes Amazon batteries? According to some press releases, the business behind the production chain of these items is Fujitsu from Indonesia.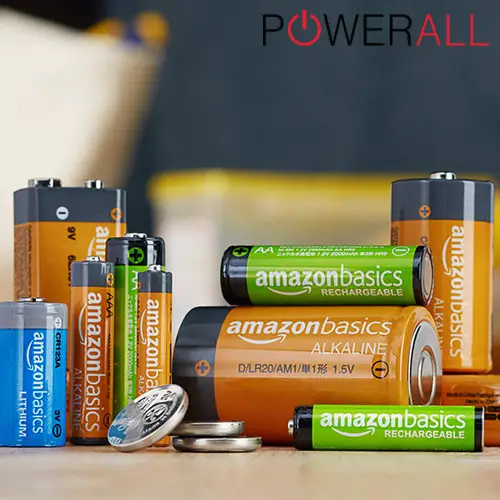 This Amazon extension has proven its valuable business since its launch. It offers a wide range of products in various capacities and sizes to cater to the diverse needs of consumers. Rechargeable and lithium batteries are also gradually becoming popular.
While not yet as popular as the market leaders, Amazon Basics deserves your attention. The manufacturer is also committed to quality to deliver a high level of performance and long-lasting charge. Of course, Amazon – a sophisticated salesman – never lets you down with its affordable prices and discounts for bulk purchases.
Pros 
Economical price range
The great value of power and runtime
Long battery lifespan
Leakproof batteries, thanks to the innovative sealing technology and the outer shell
Used anti-rust materials to prevent corrosion
Cons
Not common in every store to meet your urgent needs
Production technology may not live up to other market leaders.
Duracell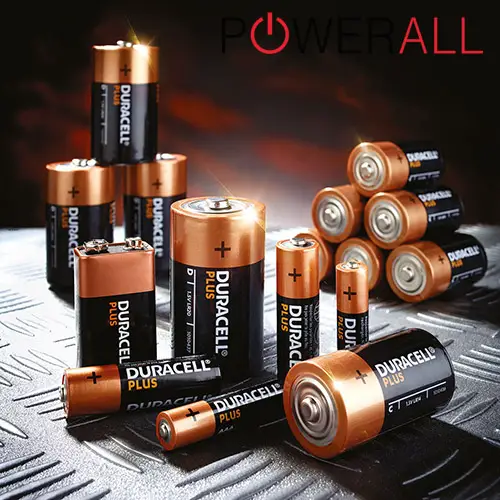 One thing is for sure, almost every consumer has heard of Duracell at least once. Originating in the 1900s, the brand has successfully built a trustworthy image in the minds of buyers. Today, it has become one of the most reliable manufacturers in the energy industry.
The most important thing that makes it famous is its constant research and innovation to improve its quality and safety features. The effort has paid off with proprietary technologies and an extensive product portfolio.
Duracell offers its customers a wide range of choices for heavy-duty and everyday devices. Patented Power Boost component in AA, AAA, 9V, C, and D alkaline cells prolongs usage time and stabilizes output.
The company also expands research and development into rechargeable batteries, including NiMH, NiCd, or Lithium-ion, which give you extra energy. It provides additional chargers with integrated Long-Life Ion Core technology to accelerate charging time and increase the recharge cycles.
Pros
Outstanding performance with extended run time and lifespan
A wide range of chemistry and sizes
Exclusive patented technologies to enhance the user experience (e.g., non-toxic bitter battery coating to prevent swallowing) 
Coming with resealable packaging for restoring the battery to save money
Con
Extra price for all-rounded features
Are Amazon Batteries As Good As Duracell? – Unbiased Comparison 
Technology & Performance
Duracell launches products such as Optimum Alkaline, Coppertop Nickel-manganese Dioxide, or specialized battery types for certain niche markets. The innovations used for the entire portfolio are ambiguous, but the alkaline batteries inherit North American technology.
On the other hand, Amazon Basics offers fewer options, including rechargeable and alkaline batteries. Their second category uses Japanese technology, known for reliability and performance. Several tests and experiments have shown no huge differences between these two technologies.
Both brands prioritize NiMH technology for efficiency and durability when moving to rechargeable AA batteries. However, each product line has specific specifications.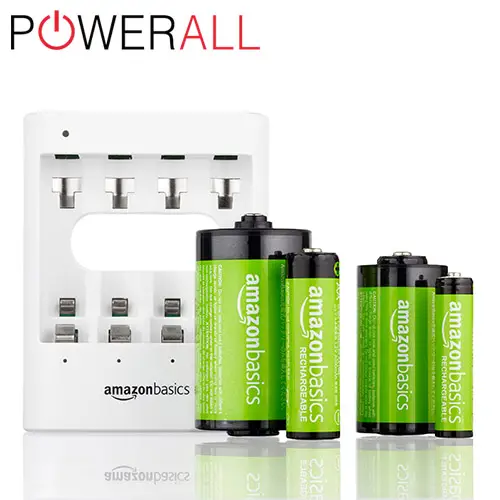 Duracell features 400 charge cycles and an average capacity of 2500 mAh. Meanwhile, the standard Amazon Basics cell supports up to 1000 cycles but decreases the capacity to only 2000 mAh.
It's said that Amazon batteries can only reach 88% the capacity of Duracell.
Affordability
Besides technology, price is one of the biggest differences contributing to the clear difference between the two brands. Without a doubt, Amazon Basics serves better deals than Duracell.
For example, a set of four AA batteries from Amazon sells for $16.49, while Duracell's product costs twice as much at $37.95. That's a pretty big gap!
Some believe that the enormous purchasing power from the parent company has encouraged Amazon Basics to gear toward a pocket-friendly sales strategy. The affordable price range has attracted a lot of shoppers, especially those with a low budget. 
In contrast, some are willing to pay more for proprietary technologies and guaranteed quality based on long development history. It is your shopping preferences that determine the winner.
Durability
Duracell batteries win the favor of users when it comes to reliability. Success does not come from clever branding but an invested R&D strategy that leads to incredible innovations.
One of the concrete proofs is the Power Boost component in alkaline batteries that optimizes battery performance. It even increases resistance to harsh conditions so that the product lasts longer.
Duracell's superiority does not mean Amazon Basics' products are half bad. Many types of the two have similar performance capabilities. However, some customers find it difficult to build trust with Amazon Basics because of the lack of a third-party manufacturer's commitment to performance. Despite Amazon's rigorous testing and quality control process, providing reliable arguments for quality and durability is not straightforward.
In terms of shelf life, Duracell takes the lead once again. Its AA packs promise to last for 12 years, while the same options of Amazon Basics come up with a 10-year shelf life. Even though other battery models from Duracell have the same service life, some users have praised its charge-holding capacity, which is better than Amazon batteries.
Availability
Another plus for Duracell is the large-scale supply chain at most supermarket chains, such as Walmart, Costco, or Target. This brand is also found at local retail stores or e-commerce platforms, including Amazon.
In contrast, there is a barrier to access to Amazon Basics as these products only launch on the official Amazon website. Some people find it inconvenient to shop online and wait for delivery.
On the bright side, you can benefit from year-round purchase deals. Membership also brings you benefits such as discounts, freebies, etc., to reduce battery costs.
Verdict: Which On To Choose?
| | | |
| --- | --- | --- |
| Terms | Duracell | Amazon Basics |
| Alkaline battery technology | North American | Japanese |
| Affordability | High battery price | Economical price |
| Durability | Longer | Shorter |
| Availability | Wide range of retailers | Available on Amazon only |
Which is the best? We can never give the right answer because it comes down to your budget and preferences.
Overall, both are high-performance batteries that are worth your money. Consider Amazon Basics if you do not want to pay a lot. Trust us; its batteries still satisfy you in terms of performance and durability.
However, their quality cannot beat the Duracell, which is in a higher price range. This manufacturer provides ultra power, especially under extreme conditions. Also, put this option in your shopping list when you prefer an instant purchase (Amazon batteries are sometimes out of stock).
FAQs 
Is Amazon A Good Place To Buy Batteries? 
Yes. Its official products can satisfy your usage needs in terms of performance and durability. It is also available in other brands if you want something different than Amazon Basics.
How Do AmazonBasics Batteries Compare With Energizer?
Energize acts as a competitor on par with Duracell. Therefore, Energizer batteries' reliability, technology, and performance are slightly superior to those of Amazon Basics.
Are There Better Options Than Duracell?
Maybe. You might consider Energizer – a well-established brand with a long innovation history. In comparison, it takes the crown for the long runtime when used with flashlights, but Duracell does better with the battery for clocks.
What Is The Most Trusted Battery Brand?
Duracell and Energizer come out on top as well-known battery manufacturers. Alternatively, you can count on Panasonic, LG, Rayovac, or Samsung due to their high-quality products. 
Does It Matter What Brand Of Batteries You Buy?
Of course, yes. Several consumer reports have shown that reputable manufacturers offer products that perform better than the rest. You can expect exclusive features to optimize battery capacity, save energy, or do other upgrades that benefit your battery and modern electronics.
Conclusion
Both Amazon batteries vs. Duracell are cost-effective investments in their price range. The important thing here is the compatibility with your device first, then your usage needs and budget. By considering all these factors, you make an informed decision and make the most of it.