The automobile battery runs the engines, but it also operates various equipment that may be switched on. When the vehicle is powered on, it will supply the current to support the car to operate efficiently. 
Besides, it also offers energy for GPS and security devices, audio equipment, headlights, etc. As important as it is, a shortage of voltage might hinder it from pumping energy throughout the automobile.
How Many Volts Does A Car Battery Need To Start? 
The minimum voltage to start a car should always be 11.8V, but you might be able to activate it at 10.8V sometimes. However, the ideal rating when starting the automobile is still 11.8V because it won't put pressure on your car's engine.
The standard voltage required to crank up the automobile is 12.6V. This value is between 13.7 and 14.7V at the moment of operation.
Before Start
If the voltage is below 10.8V, you cannot start your automobile because it's too low. You need to replace the battery or use Jump Starter to switch on the automobile in an emergency.
If the voltage is between 10.8V and 11.8V, you may find it difficult to crank up your machine. Sometimes you can start it, but your car will be subjected to repeated stress and break down over time. 
Besides, you have to switch off all other electronic devices and repeat the process multiple times with this rating. Normally, it is common to switch on the motor at a voltage between 11.8V and 12.8V. The ideal rate is at 12.6V.
After Start
After starting, the ideal voltage should be between 13.2 and 14.8 volts. If it is higher than 14.8, your battery and your engine may be damaged. It would be best to examine the engine stabilizer to ensure your battery has any problems.
You can normally verify this variable by directly using your machine's internal overhead light system. When your headlights have an adequate brightness, you don't need to worry as your battery has sufficient capacity.
How Can I Check the Car's Battery Voltage?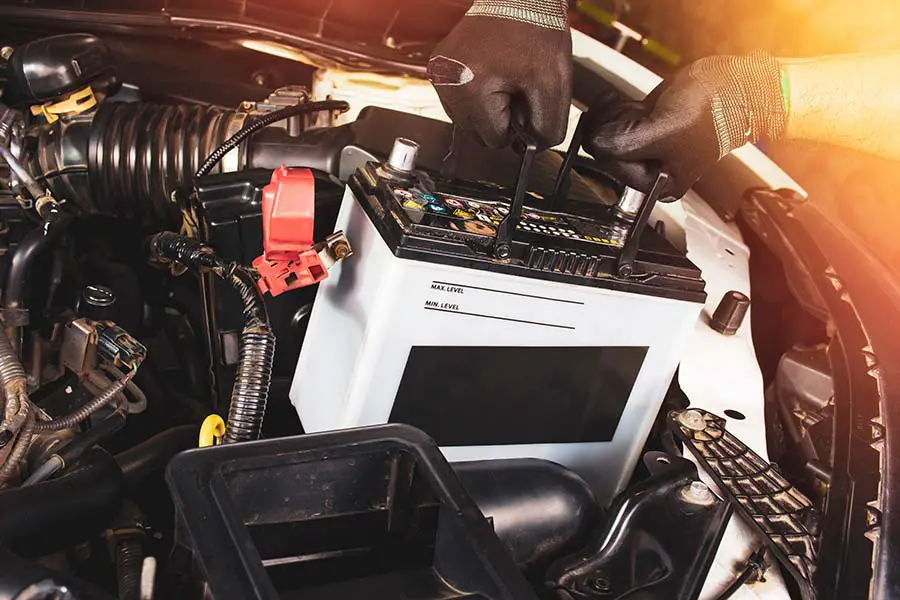 You can use a voltmeter to know how many volts to start a car. It is one of the most trustworthy approaches. This gadget allows the user to effortlessly connect the ports of a vehicle battery to establish the rated voltage level.
There are a few things to bear in mind while using a voltmeter to ensure that it works as effectively as possible. Before installing the voltmeter, make sure the engine is properly turned off. Furthermore, the generator should not be raised or in a rising position.
For the voltmeter to work at its best, you need to attach the wires on the voltmeter to the battery's terminals and switch on the vehicle. After that, observe and verify the voltmeter number and maintain the starting time for roughly 15 seconds.
How To Deal With A Low Voltage?
Replacing Car Battery
The main cause of low voltage is your car battery is damaged. In such a case, you must test the voltage to determine whether or not your car's battery is malfunctioning. 
The most direct and quick approach to test a car's voltage is to use a multimeter. First, you need to switch on the headlights for 2 or 3 minutes to remove any surface properties from the battery. Then, with the multimeter tuned at 15-20 volts, turn off all the lights.
The following step integrates the multimeter to the positive and negative battery connections. If your voltage is not over 12.6 volts, you may have a faulty battery.
View more: How Many Amp Hours Is A Car Battery
Get A Portable Jump Starter And Keep It As A Backup
Sometimes, the voltage is insufficient to start the automobile. You can buy a portable jump starter for backup, depending on the size of the vehicle. 
As such, you don't have to wait for road assistance if you face this situation. You can crank up the engine in an emergency, and after finishing the trip, you may change your battery.
Several jump starters available now have a rechargeable battery and an LED light. They can also power your electrical gadgets and include an air compressor feature utilized while traveling off-road or before heading out.
Going To An Auto Repair Shop
You can take your vehicle to an auto repair shop or call a mechanic or a roadside help service. They can offer you an estimate of the price before doing any maintenance or fixes.
Conclusion
Overall, ideal voltage levels are between 11.8 and 12.8 volts. After starting the vehicle, the voltage should be between 13.2 and 14.8 volts. 
Besides, you should use a voltmeter, but remember that the engine is properly turned off.
We hope to have provided you with all the information you need. Thank you for taking the time to read our article.