Everyone has already been familiar with Costco, one of the best and most popular wholesaling brands ever known. People of all preferences and working fields can find almost any goods and services there – and cars are no exception, from tires to batteries and more! 
But remember, the word "almost" is important here – there are still certain services that Costco does not cover. Is battery installation one of them?
Does Costco Install Batteries? 
No, unfortunately, Costco doesn't install, test, or replace car batteries for you. 
To this day, we still have no idea why Costco offers services for literally every issue one could think of – except for the most basic: battery installment.
But does Costco sell car batteries? This time, we have great news: Costco is among the best places for car battery purchases. The brand always gives its loyal customers the best product value by distributing quality yet reasonably-priced batteries.  
You can find some of the most popular battery brands (ex: Interstate batteries) in almost every Costco location. Simply go to the store's automotive section, then look through the middle or lower shelves. Once completing your payments, drop by an auto shop or mechanic nearby to have them installed! 
Though numerous types of batteries are available at Costco, the most common ones are: 
Flooded, Standard Battery. The most popular lead-acid batteries in the automotive industry – and will remain so for years to come. It works pretty well with small cars and sedans. 
AGM (Absorbed Glass Mats). One can find these batteries almost everywhere, both on personal devices (laptops, computers, cell phones, etc.) and heavy machines (cars and trucks).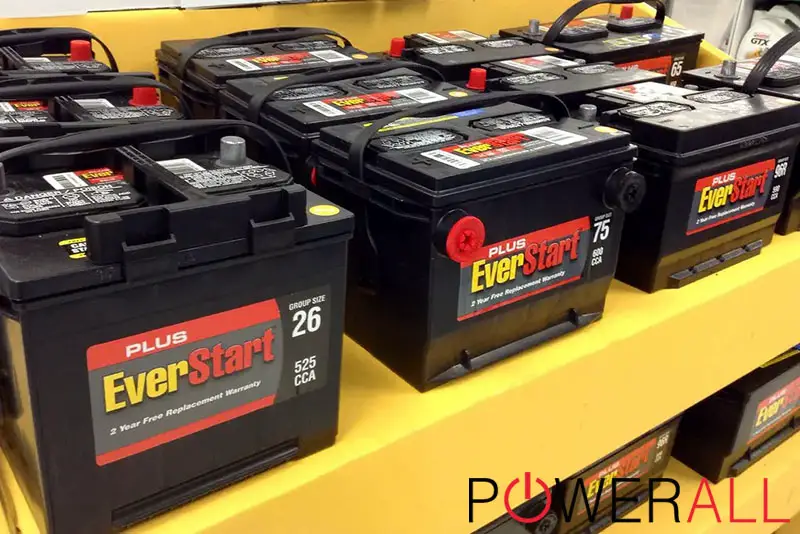 They include a premium fiberglass layer that functions as a barrier among lead plates – accompanied by a tightly-bound electrolyte to prevent short circuits and violent vibrations. 
How about the battery prices? 
We are pleased to announce that Costco car batteries are cheaper than anywhere else – Walmart counted. Even the best, the price of most quality batteries with great critics scores average at $100 – quite a better deal than $85- $145 variants from other retailers! 
There's also a battery core charge (about $15), though you can easily waive this extra cost by returning your old/bad batteries to Costco to get them recycled. 
Battery's Pricing and Size Chart:
| | | |
| --- | --- | --- |
| Group Size | Number | Average Price |
| 24F | MTP-24 | $167.95 |
| 26 | MT-26 | $136.95 |
| 26R | M-26R | $104.95 |
| 27 | M-27F | $129.95 |
| 34 | M-34 | $104.95 |
| 35 | MT-35 | $141.95 |
| H5 | MT-47 | $151.95 |
| H6 | MTP-48 | $172.95 |
| H8 | MTP-49 | $182.95 |
| 51R | M-51R | $119.95 |
| 58 | M-58 | $109.95 |
| 65 | M-65 | $119.95 |
| 65 | MTP-65 | $172.95 |
| 75 | M-75 | $104.95 |
| H7 | M-94R | $129.95 |
| 96R | M-96R | $119.95 |
| 121R | MT-121R | $141.95 |
| 124R | M-1214R | $129.95 |
Even better, Costco also introduces replacement warranties and return policy for many battery brands (although the specifics differ depending on your purchased models). 
More specifically, any defect or failure detected within warranty periods will grant you partial refunds or zero-cost replacements. To qualify,  you must provide Costco with relevant information and documentation about your original purchase.
Where Else Can You Go For Car Battery Installation?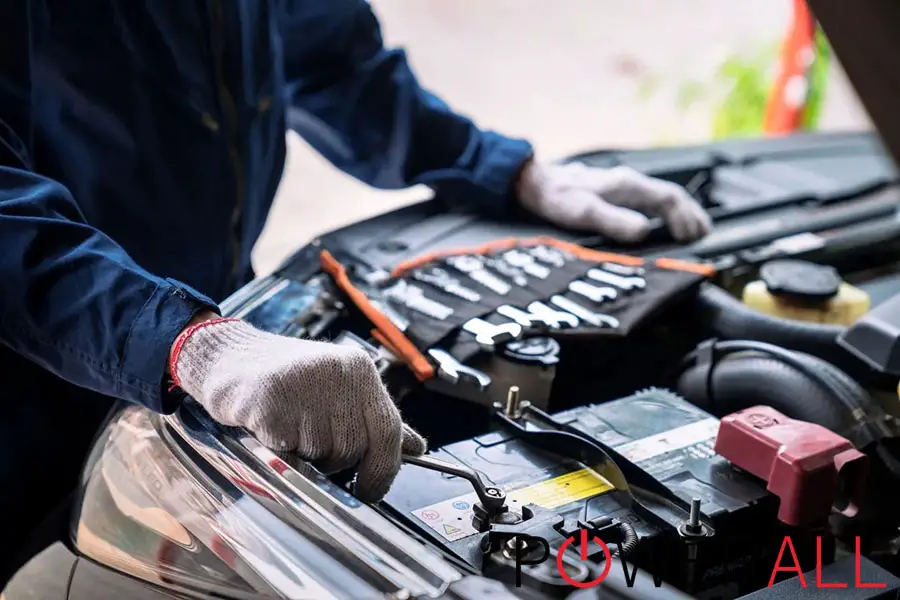 The fact that Costco is not open for this service is quite a pity. But don't fret; many other automotive shops and retailers offer to sell and replace batteries for you in one go. Here are some highly-recommended names to consider: 
Advanced Auto Parts
AutoZone
O'Reilly
Walmart
Firestone
Pep Boys
What Are Other Car Services to Enjoy At Costco? 
Car Gadgets and Accessories
Customers can score great, competitive prices for a wide variety of items – from wax kits and dashboard cameras to bike racks and wiper blades. The retailer also distributes truck and car emergency kits, motor oil, battery chargers, socket wrenches, and numerous other critical devices. 
Note that while some can be purchased via the online website, others must be bought at physical stores. 
Low-Priced Gas
Stop at any Costco location on the way, and you can find cheap gasoline in a blink! Gas for sales by Costco is significantly more affordable than most neighboring stations – to the point that the savings can even offset your yearly Costco membership charges. 
Discounted Car Renting
The brand joins hands with hundreds of car-renting chains to offer its members huge rental discounts (visit Costco Travel for more info). And not just cars; there are even deals for cruises, hotels, and flights! 
Cheap Tires
Costco tire centers are usually nearby warehouse spaces, which means their tires have better prices than those from other retailers or dealerships. Did you know Michelin tires even offer a price reduction of a whopping $70 at Costco? 
Budget-Saving Auto Insurance
The brand's Insurance Agency has stopped offering insurance plans for families and individuals for a while (which is quite unfortunate). 
But in compensation, it co-operates with Ameriprise Home & Auto Insurance to help members save $600 in annual insurance costs. Not bad, isn't it? 
Car Washing
That's probably because some branches offer it while others do not; in fact, there are only about 11 Costcos in total with car-washing programs; consider yourself lucky if they are within your driving distance!
The programs include:
Wax
Tire shine
Spot-free rinsing
Savings on Services and Repairs
To our delight, Costco has been in talks with a huge network of service shops, from which you can earn a discount of 15% on auto parts, maintenance, repairs, or even accessory purchases via those third parties. 
No-Hassle, Low-Priced Used and New Cars
Let us clarify first: you cannot actually purchase a new vehicle at Costco. Rather, the Costco Automobile Program connects you with trusted dealerships – which has already negotiated with the brand for the best prices. 
You can find thousands of models and makes at a good price tag – usually $1000 cheaper than products paid outside this program – with barely any haggling involved. 
Should You Sign Up for A Costco Membership?
Yes.
With all the amazing discounts and savings, we don't see the reason why you should not. However, consider your needs first. If you only drop by Costo – say, once a month or a year – memberships might be a bit of a stretch. 
Conclusion
Even though Costco does not offer auto battery installation service, drivers can still enjoy numerous benefits and offerings from this wholesaler. Do not hesitate to contact them for help if needed; their customer support is always available 24/7!