What are 394 batteries? Looking at the battery compartments of small electronic devices like toys, garage door openers, watches, or micro-flashlights, you can see a tiny part that looks like a coin. That's probably a 394 cell.
However, you may encounter a strange label, not 394, such as AG9 or SR45. Stay calm! All are common names for the same type of battery cell and available alternatives in the market. If you have no idea about 394/380 battery equivalent, scroll down to learn more. 
394 Battery In Great Details
The 394 batteries, as small as a button, measure about 9.5 x 3.6 mm (or 0.374 x 0.1417 inches). If you bump into two products of the same category with different sizes, what distinguishes them is their consumption. The bigger one is often a high-drain battery.
Regarding chemistry, this option comes with two substances – alkali and silver oxide. Let's find out their distinctive features below.
Alkaline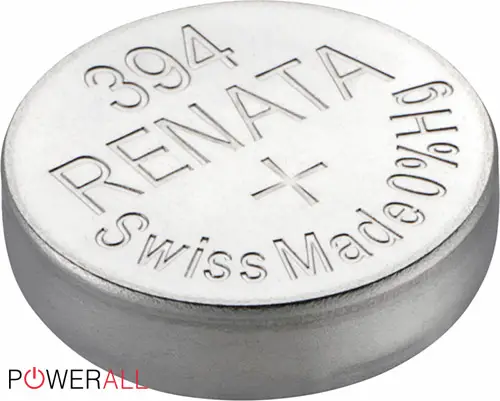 The alkaline button cell battery delivers a nominal voltage of 1.5 volts and a threshold voltage of about 0.9 volts. The rated capacity ranges from 45-50 mAh depending on temperature, lifespan, or drain current. The output voltage drops during discharge after a period of use.
The battery age lasts from 2-3 years. Manufacturers often label this alkaline battery size as LR936, LR45, or AG9, but some can customize their trademark.
Silver Oxide
This battery option delivers more powerful and long-lasting performance compared to alkaline cells. Its nominal voltage reaches 1.55 volts while the cut-off voltage rises to 1.2. Its nominal capacity is also increased to 60-5 mAH.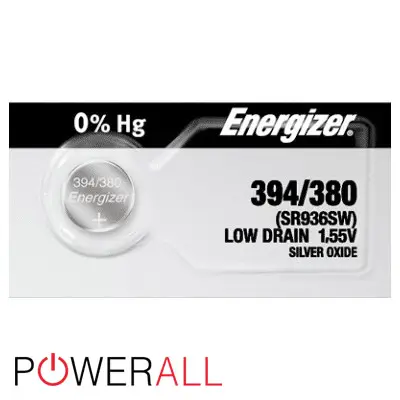 Though the size is about the same as the standard one, the 9.5 x 3.6 mm silver oxide battery offers a wide choice of power drains. 
For example, those with labels like 394 or SR936SW are considered low-drain, while 380 or SR936W are high-drain. The former ones produce a high current compared to the latter, but they do not work out for some applications with strong pulse currents.
Other options with similar dimensions include SR45, 1161S0, SG9, and SR936. Thanks to technology development, the market now also serves several multi-drain models for flexibility.
Long story short, their energy density makes these two types of 394 batteries different. Silver Oxide counterparts produce higher current and also last longer. 
Meanwhile, the biggest plus of Alkaline batteries is the low cost of production, making them ideal for installation on most applications, such as watches, toys, wearable electronics, remote controls, etc. In return, they are prone to leaks. This condition causes severe corrosion and damage to your battery-powered devices.
Watch Battery 394 Equivalents: A Wide Range Of Choices For Your Preference 
As you have seen above, many labels have the same meanings as the features of 394 batteries. Here is the cross reference chart to show all the substitutes from popular brands. 
| | |
| --- | --- |
| Brands | 394 Battery Equivalents |
| Renata / Rayovac / Energizer / GP | 394 |
| Maxell | SR936SW |
| Duracell | D394 |
| Rayovac | 394 |
| Timex | LA |
| Varta | V394 |
| Bulova | 625 |
| Seiko | SB-A4 |
| Citizen | 20-17 |
| Vinnic | L936F |
| IEC | SR45, SR936 |
| Others | AG9, SG9 |
Popular SR936SW Battery Equivalents In Comparison 
| | | | | |
| --- | --- | --- | --- | --- |
| Brands | Nominal & Cut-off voltage | Nominal Capacity | Operating TemperatureRange  | Discharge Rate |
| Energizer 394/380 | 1.55V / 1.2V | 63 mAh, 15kΩ  | – | ~2% @20°C |
| Duracell D394 | 1.55V / 1.2V | 84 mAh, 15kΩ | 0°C to +60°C | ≤10% @20% |
| muRata SR936 | 1.55V / 1.2V | 75 mAh, 15kΩ | -10°C to +60°C | – |
| Renata SR936SW | 1.55V / 1.2V | 82 mAh, 15kΩ (High Drain) or 84 mAh, 10kΩ (Low Drain) | -10°C to +60°C | 5 – ≤10% @20% |
Precautions When Using 394 Or Vinnic L936F Battery Equivalent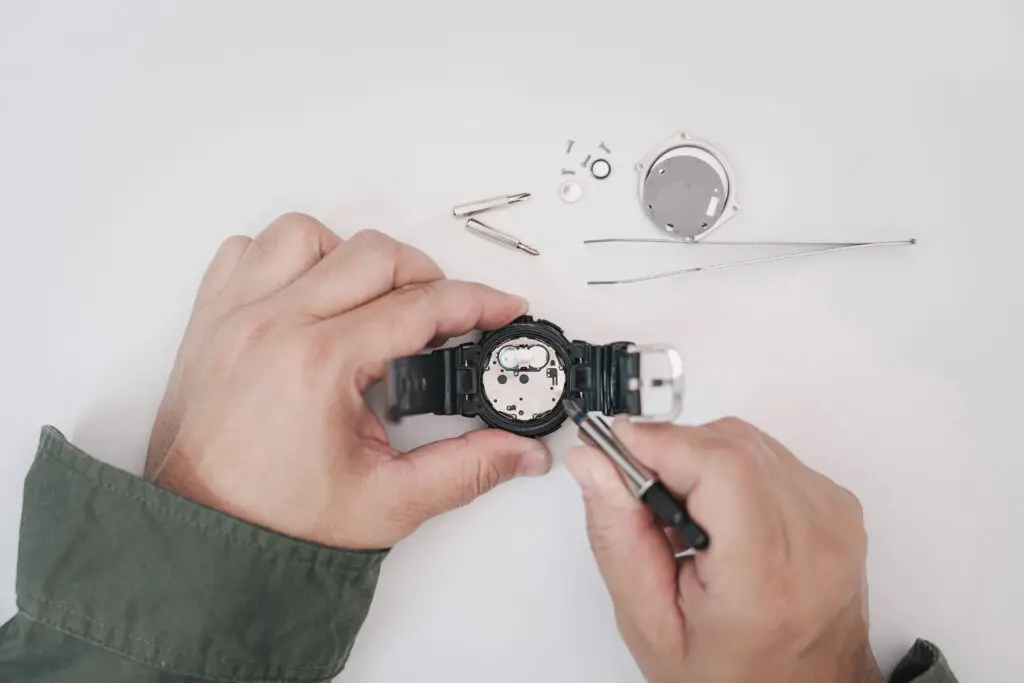 These coin cell batteries do not contain mercury or heavy metals such as lead or cadmium. Hence, they are free from poison.
On the downside, the tiny and shiny components are thus confusing for children and pets. They can mistakenly swallow and suffer from chemical burns inside the body due to electrolytic reactions. It is best to store these parts in a safe place.
If, unfortunately, your child or pet has swallowed small batteries, stay calm and call the nearest medical center. Report everything that happened and give first aid immediately according to the instructions of the medical staff.
FAQs 
Can I Use The 395 Battery Instead Of The L936F Battery Equivalent?
Yes, you can. However, you'd better stick to the specific battery types recommended for your applications for the best capacity and safety. 
How Long Does Renata 394 Battery Equivalent Last?
According to the Renata manufacturer, its shelf life can last up to 3 years. Still, the actual usage period depends on various factors, such as storage, discharge cycle, rate and frequency of cycling, etc. 
What Happens If I Use A Higher Amp Battery?
Equipping your devices with extra capacity equals longer runtime. However, there should be no fluctuation (which affects the current intensity) for optimal use. Otherwise, this leads to the risk of burning and propagating structural damage.
Conclusion
Despite many labels, 394 batteries fall into two main categories: alkaline and silver oxide. The first option costs you less, but we recommend the other for stable voltage. Its higher capacity and longer lifespan also benefit your devices. Consider 394 a.k.a LR45 battery equivalents such as the L936F, SR936SW, etc., for these great features.