Predator generators are well known for their good performance and convenient extra features. Loyal users can notice the manufacturer's intention – Harbor Freight, in developing two product lines based on dimensions: small and larger models. 
Regarding the first category, the Predator Generator 9000 comes out on top as one of the biggest brothers. It is advertised as ideal for powering your entire home or as a backup power source. But is the engine capacity worth the hype? Scroll down for our unbiased review.
The Overview Of Predator 9000 Watt Generator
Predator 9000 is a conventional generator that only produces AC electricity. If you are searching for the most powerful and fuel-efficient warrior of Harbor Freight, do not miss this machine.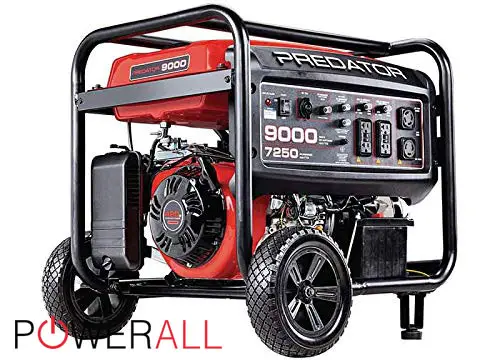 You can expect a high starting and running watt to handle your home's immense demands for electricity. The 420cc air-cooled OHV engine allows the machine to run continuously. You are free from the concerns of heat build-up during fuel combustion, which is the killer of generators.
Modern built-in features add more charm to this option. First, 7 outlets are ideal for connecting to any device. Why? You have up to 4 types of ports to meet all compatibility needs. This thing also has a lot more interesting stuff that we'll go into detail about below.
However, it has some cons worth considering. Despite being a portable generator, it is heavy and large. Some people complain about its high dB noise level as well.
Compared to the advanced inverter technology, for example, the 3500W peak generator, it fails to take the crown in some categories, such as emissions, fuel efficiency, or stable current for sensitive electronics.
Additionally, the manufacturer does not sell it widely on online sites. Hence, you may struggle to get it at hand.
Pros
Multi-purpose function
Enormous output for large power demand
Rich built-in features
Wide range of outlets
UL listed circuit breakers
Cons
Bulky appearance
Narrow availability
Wheel-kit is not included
Predator 9000 Generator Review
Portability
The Predator 900 measures 26.9x22x22.8 (LxWxH) and weighs 196 lbs. This size poses challenges for mobility and relocation without the existing wheels. 
Unfortunately, these parts do not come free with your package. In other words, you must pay extra to get the wheel kit to use this tool in many different positions.
On the bright side, the open frame design provides good support. The steel tubing frame creates a solid protective barrier for the components inside. Hence, you can rest assured about the risks of moving around.
Engine & Power
As the name implies, this option generates a peak wattage of 9000W and a running wattage of 8750W. For those without any idea about these two properties, the first indicates the maximum amount of energy the machine can handle when plugged in devices start up. 
Some devices may require a burst of power to operate and maintain clean power after a few seconds. That is the reason for the subtle difference between the two terms.
This model is considered one of the largest outputs on the market. Not believing? Most refrigerators consume between 400-600 watts, and this machine endures 9000 watts. It can handle all the electricity load demand in your home when the energy suddenly cuts off.
Fuel Tank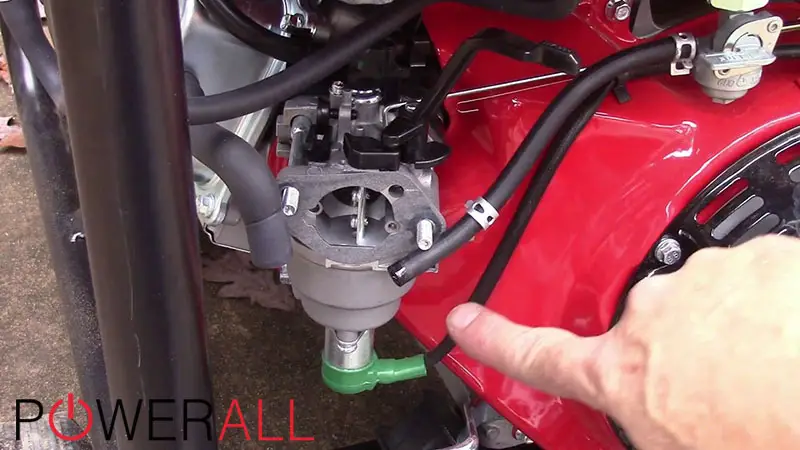 Along with the large output, the manufacturer has installed an 8-gallon fuel gauge for this version. This feature helps balance power and run time. 
It also reduces the number of refills during operation. You can expect it to achieve 13hr runtime at 50% power draw (watt).
Noise Level
If you consider using this generator in quiet areas, give up your idea. Some experiments have shown its sound level to be in the range of 73-74 dB. 
Some users feel fine with this acceptable noise that is only comparable to the noise output in a crowded open office.
However, remember that any sound above 70 dB is deemed disturbing. It also has bad effects on our hearing after a long time.
Ease Of Use
No one could deny the great convenience of this model. The first thing worth mentioning is the variety of power outlets. All you have is 4x 120V 20A (3-prong), 1x 120V 20A twist-lock (3-prong), 1x 240V 30A twist-lock (4-prong), and 1x 12V DC GFCI. 
Each port is geared towards specific uses; for instance, the last provides a quick charge cycle.
Besides, it features a low oil indicator and automatic low-oil shutdown. Hence, you can see it as a generator for safety to operate in your home. Do not hesitate to take it out for outdoor activities if you buy an extra L5-30P adapter.
Last but not least, it ensures you have fewer booting problems. Things get easier with an electric start though it requires batteries hooked up. Of course, the pull/recoil mechanism is available for emergencies.
Warranty
The Predator 9000 has a 90-day warranty limited to the generator's basic components. These policies cover manufacturing and material errors. 
Note that the guarantee is effective only if there is no misuse, abuse, improper maintenance, accident, or modification. Plus, Harbor Freight also serves an extended warranty for the emission control system within 2 years.
Our Thoughts About Predator 9000
We have been using the Predator 9000 for 1 year, and the experience has surpassed all expectations. The first great impression is that our machine came with about 2/3 charge from the store. 
Installation was as easy as pie just by inserting the battery so that we immediately put it to use. One secret tip is placing permanent battery terminal hookups for quick plugging in when needed.
For the first get-together, we went for the pull-start mechanism. Surprisingly, the engine turned on on the first try and was installed with our heater easily. We switched to the electric starter the next time, which went smoothly. However, we noticed an easier process with a choke.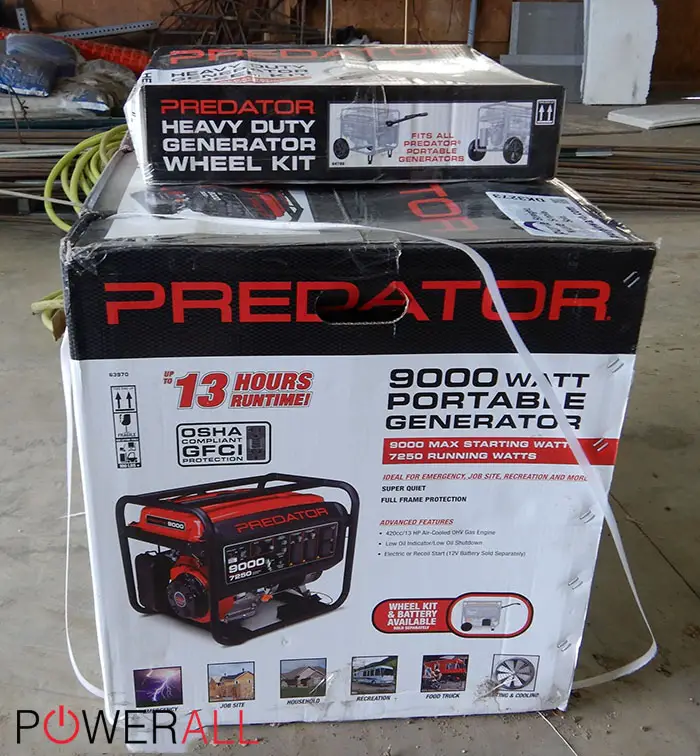 We haven't tested the output voltage as the machine never suffers from power failures. Thanks to this friend, we survived power outages for a few hours. 
It powers a few modern gadgets in our house, such as a TV, refrigerator, air conditioning, vacuum cleaner, and oven, and everything works fine.
We haven't experienced problems with this machine yet, but its separate wheel kits did. Our first item was not in good condition. It featured some big dents, so we exchanged it for something else. Those next casters contained no air but solid foam. We did not appreciate that they were not rubber sets.
One of my wheels had a slight deviation. However, the problem came from the frame bracket, which is probably the intentional design of the manufacturer. It did not rub with other parts but left a few minor annoyances with our handling.
In short, the Predator 9000 is still a great investment if you want a large output and some additional features.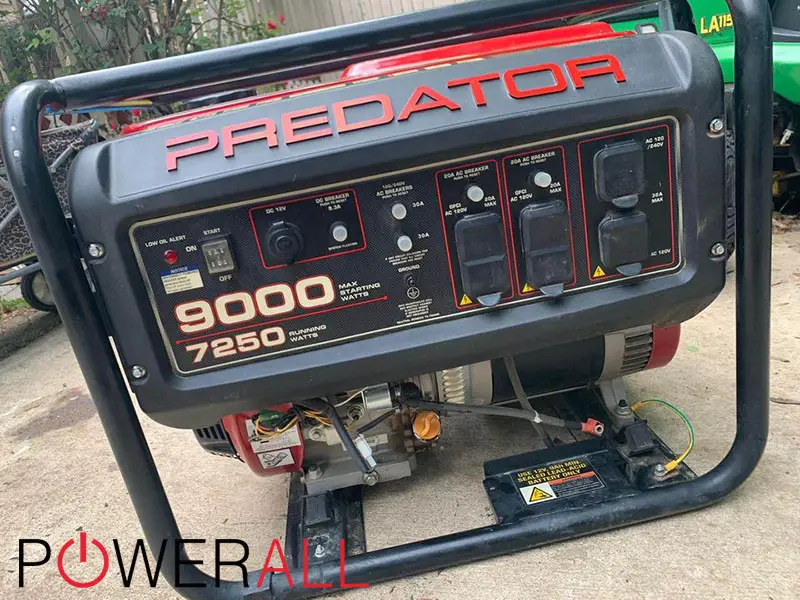 FAQs
How Often Should I Change Oil On My Predator 9000 Generator?
According to Harbor Freight's recommendation, owners should change the oil in their Predator 9000 monthly or after 20 hours of use, whichever comes first. The break-in oil change schedule is also after 20 hours. Remember to let the 420cc engine cool down before maintenance.
How Long Will A Predator 9000 Last?
You can expect it to last at least 10 years, but some record long-lasting lifespans of up to 20 years.
Which Is The Quietest Generator From Predator?
Predator 3500w is the quietest portable inverter generator which operates at 56 dB. This sound level is even less noisy than rainfall. Considering this option for your RVs, job sites, or tailgating would be best.
Conclusion
To sum up, the 9000-watt Predator generator is the best-rated product. Despite minor disadvantages, you can count on its reliable performance, especially regarding wattage rating and fuel economy. 
As an experienced user, we recommended paying extra money for a wheel kit for great portability most of the time.