You are in an era where electrical energy dominates every aspect of life. A generator comes in handy to save you the trouble of unexpected power cuts. 
However, a quality product often costs quite a lot of money. Fortunately, those with a low budget can find suitable options from Firman. The question is: is it a worthy investment? Scroll down for our Firman generator review.
The Overview Of Firman Generator
The Trusted Manufacturer

Firman is a brand of portable generator owned by Sumec Machinery, established in 1978 – a subsidiary of the Chinese group Sinomac. But their products are manufactured under the direct supervision of FIRMAN Power Equipment, founded in 1999 in Arizona.
The company is known for its noble aim to serve the market with excellent generators and expert customer support. Its generators are favored by most Southeast Asia and African consumers, with a market share of over 30%.
FIRMAN is committed to constant innovation and customer satisfaction. Instead of becoming better than the competitors, the corporation strives to stand out and stay at the top of customers' minds.
A Wide Range Of Product Line
Up to the present time, FIRMAN owns a wide range of generators. Its impressive portfolio consists of four product lines with distinct features.
ZERO-E series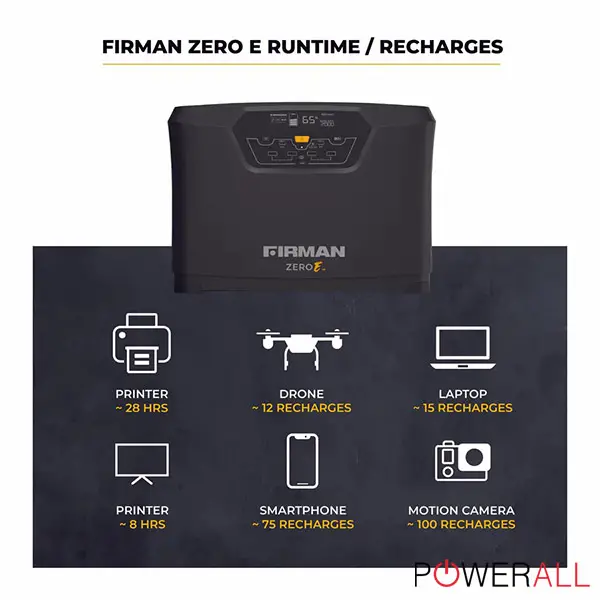 One of the most prominent benefits of this category is zero emissions and waste. If you are an environmentally conscious buyer, these models will seal the deal, which greatly contribute to the living environment's sustainability.
Additionally, you can expect multi-purpose use to apply generators to occasions such as outdoor camping, residential power, or recreational vehicles. Rich built-in features, ease of use, and little maintenance maximize your comfort.
HYBRID series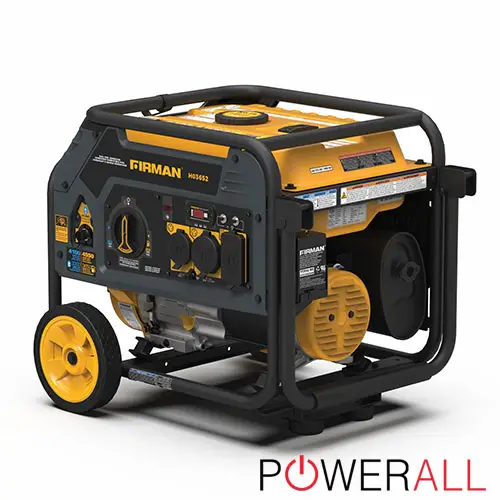 The product line includes 20 hybrid generators for impressive capacity and great flexibility. Power range between 7,500 – 9,000 watts meets all your usage needs.
Though not as eco-friendly as the series above, this category comes to satisfy the requirement of enormous energy supplies. 
When you want an optimal solution for construction sites, large vehicles, farms, etc., nothing is more adaptable and powerful than these generators.
PERFORMANCE series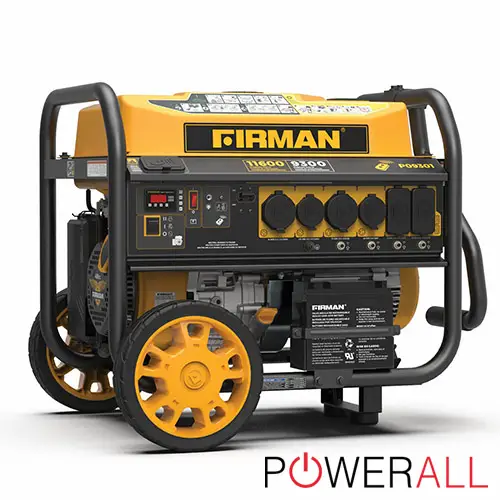 Like the second product line, the PERFORMANCE series delivers incredible power in the 7,500 – 9,400 watts range. However, it is also defined by energy efficiency. In simple terms, you benefit both in terms of performance and operating costs.
Other plus points are the long working time and user-friendly manner. The manufacturer recommends using these options as a good backup choice for emergency situations, extensive work, and camping sites.
WHISPER series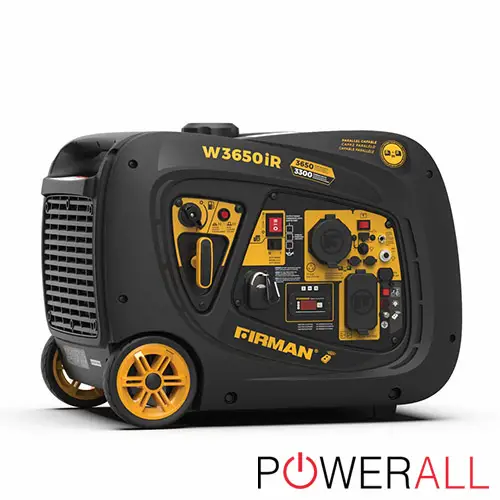 If you want a generator that works in silence, lay your eyes on this category. It introduces the quietest generators to the market.
The average power outage (1,000 – 5,000 watts) is enough to handle basic needs, such as tailgating, camping, etc. Other benefits worth mentioning in this series point to flexibility and green technologies.
Are Firman Generators Any Good?
The answer is YES in general. Though the performance varies on many models, most products serve exceptional values. As a newcomer in the market compared to those with a long development history, such as Honda, Yamaha, or Westinghouse, how did it become a fast-growing generator brand in the short term?
In the early days, users came to this brand for a competitive price. While other Asian generator manufacturers raise the charge as their products become popular, Firman continues to please those on a budget.
This does not mean you pay for substandard engines. Its strong investment in R&D has shown uncompromising quality. The corporation has convinced users with over 100 patents and win-win partnerships with other companies.
For example, FIRMAN teamed up with the long-established American brand – Kohler Engines in 2014. Anyone interested in petrol or diesel engines has heard of this name at least once. The company inherited the wealth of experience from its collaborators and applied it to their manufacturing process.
On average, a FIRMAN generator operates for 2,000 – 3,000 hours before the capacity degrades. The strict quality control process has greatly contributed to its incredible durability. 
To illustrate, Firman has run their two-cylinder electric machines for 1000 hours straight, while the manufacturing industry standard only requires 250 hours of testing.
The fourfold difficulty of the test shows the manufacturer's unwavering confidence in its output. Plus, all products launched with a 3-year warranty are also a clear demonstration of their commitment.
In the end, its innovation efforts have paid off with exclusive features. For instance, a special component called "Whisper Muffler" minimizes the noise generated when the machine is on. Some other models are equipped with "never flat" tires to conquer harsh terrain when moving outdoors.
On the downside, we had a hard time getting one amazing generator home. Though it offers many choices, best-selling models are often out of stock. The brand does not replenish as constantly as other popular generator rivals.
Top 5 Firman Generators Worth Your Money: Unbiased Review
Firman W03083 3000 Watt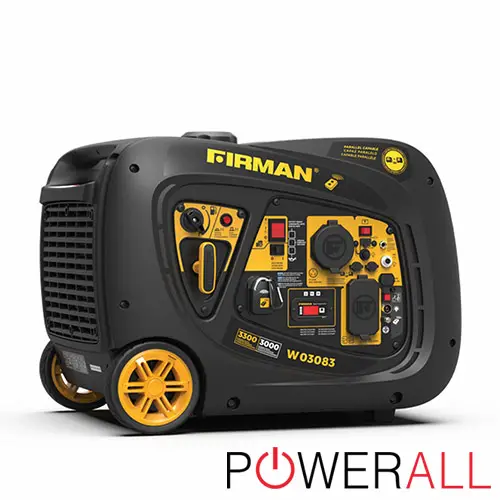 Belonging to the Whisper series, the quiet operation of the W03083 deserves the spotlight. Following our measurements, the engine noise is 58 dB at 25% electrical load – a bit higher than some competitors but never a nuisance.
Another plus is connecting in parallel, allowing twice the capacity. Specifically, we attached another W03083 and got a running wattage rating of 6000. 
We also found it convenient to get multiple outlets, including the 30A twist lock receptacle TT-30R 120V, duplex standard 5-20R 20A 120V, battery charging 12V, and USB port.
Besides, this product provides starting modes: electric, recoil, and remote. According to the manufacturer, the third option is activated with a simple button on the remote at a distance of up to 168 feet.
We love the addition of a recoil boot which is especially useful on cool days. But this also means the remaining options do not work well in low temperatures. We struggled to get W3083 up when cold winter nights came.
In terms of power, this silent inverter generator delivers a peak starting wattage of 3300 and a running wattage of 3000. This level is ideal for home energy requirements. Plus, it holds 1.8 gallons of gas to support 10 hours of operation. 
This efficient generator powered our air conditioners without interruptions when the residential electric system went out at night.
Firman Hybrid Series H03651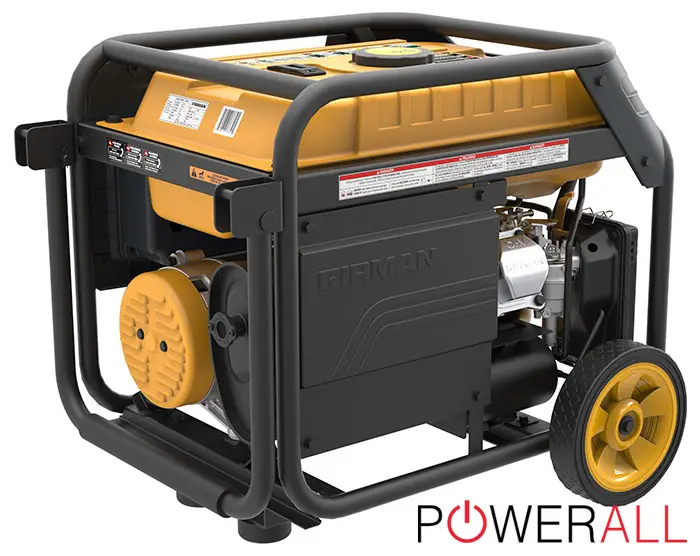 The H03651 models run on dual fuel, gas, and propane, but the output differs for each. It provides 4,100 watts of starting and 4,550 watts of running when you fill the integrated fuel gauge with gasoline. 
The capacity drops to about 3,300 watts when it takes in propane. Anyway, both modes are powerful enough to power home appliances.
We fell in love with its modern and cool design. Plastic housing with a solid steel frame contributes to good durability. Rubber wheels and thick rubber mounts help reduce vibrations. Still, the best part is the covered outlets with protective rubber caps that add to the overall beauty.
If you choose this option, you benefit from modern gadgets such as overload protection, emergency starters, and digital displays for frequency, hours, and volt. 
We wonder whether built-in features increase the weight to 134 lbs. We found it difficult to move around; fortunately, the strong fold-down handle eases the burden.
Other great things worth mentioning are compliance with CARB standards and fuel efficiency. Hence, residents of California, known to have the toughest emissions regulations, can use the H03651 without concerns.
This hybrid generator is not inferior even when compared with inverters set to eco mode. At 50% electrical load, we ran it for 14 hours. We also tested it with a larger propane tank of 20 lbs and found it to work up to 20 hours.
Firman H08051 Dual Fuel Portable Generator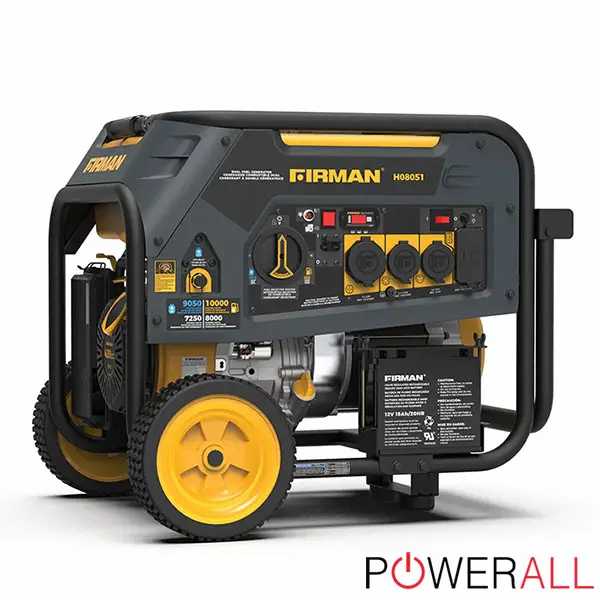 The H08051 is considered a dupe of H03651 due to the many similarities. However, it takes the crown when looking for a superior output for large devices. We discovered this treasure when shopping for an excellent generator for our lumber mill and have never regretted the decision.
It provides a peak starting wattage of 10,000 and an operating power output of 7,000 for LPG. The gas engine's ample power reaches 9,050 and 7,250 watts, respectively. 
Such a strong output greatly supported our sawmill operations without causing any interruptions. For this result, the 8-gallon fuel tank size also deserves a compliment.
We also fall for the cooling system and automatic low-oil shutdown protection. These wonderful things have kept the electric generator efficient without heat build-up. 
This was necessary as we ran multiple chainsaws simultaneously, which put considerable pressure on our previous products.
On the downside, the H08051 is bulkier in size and weight than the other models on this list and the most portable inverter generator on the market. We had no problems with this flaw, but you should consider it if weight is one of your concerns.
Firman W01784 Portable Generator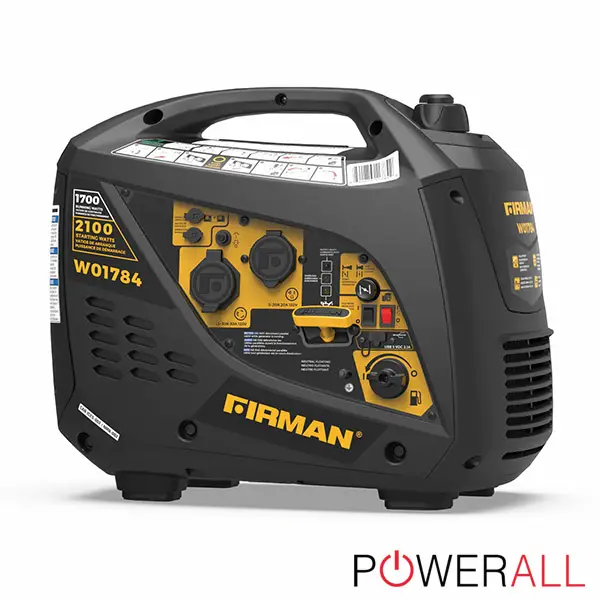 When you bump into W01784, you may fall in love with its clean and neat appearance. Its housing defines a "portable generator," which means you can move around without too much effort.
What makes it so popular is the ECO mode which reduces voltage output but promotes quiet operation. With just one black rocker switch, you can enjoy two different operating states of this machine.
When you press the O position, the generator shows off an incredible performance. The 80ccc engine produces a peak starting power of 2,100 watts and switches to an operating voltage of 1,700 watts. The THD rating as low as 3% generates clean power allowing you to connect sensitive electronic devices.
Additionally, the OHV engine excels in longevity and maintenance. This saves a significant amount of owner costs because you don't have to visit the mechanics as often.
The fantastic generator P03611 can maintain continuous operation without failure. While the 0.9 gallon gas tank may seem small, it supports a runtime of up to 10 hours. We ran a refrigerator, plus a light and phone charger in one go. It is beyond expectation that a small machine can handle such a huge demand.
You must be aware of one significant drawback – the absence of modern boot mechanisms. In other words, this model only provides the recoil jump start, which requires great effort and time for the user. We've struggled for a long time to figure out good starting tips for traditional generators like this one.
Firman H05752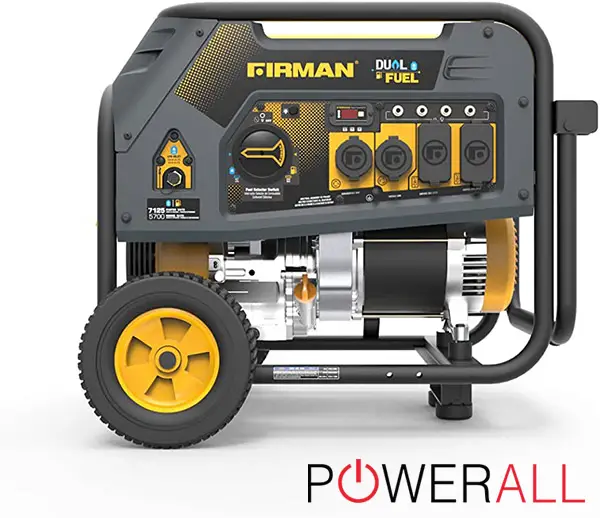 The H05752 is another great choice for those falling in love with the Hybrid series. Its load exceeded our expectations, with a peak starting at 7,125 watts. During operation, the engine maintains approximately 5,700 watts of power output. As you can see, it's not a big deal to nail off-grid use or service backup.
An interesting feature of this model is the power parity between gas and propane engines. It is a rare setting as most dual-fuel generators on today's market have slightly lower propane performance. Hence, users who prefer to propane for its environmental benefits no longer have to tolerate the power trade-off.
However, the 240 lbs weight poses a challenge for transporting. This is understandable since its body fits in a 1.25″ steel tubing frame. But don't worry too much since you can control the movement with the 10-inch solid rubber wheels. "Never-flat" tires and a high folding handle greatly support your job.
We are particularly pleased with the steel wheel rims instead of plastic to endure the extra burden. Another fine little detail is the multi-feature control panel with covered outlets. You never realize the value of this design until you take it outdoors in extreme weather.
Things To Consider While Buying From Firman
Type Of Generator
Besides conventional options, you can find inverter generators in Firman. They are better compatible with small devices due to low THD ratings. On the other hand, conventional generators are known for their consistent output and fuel efficiency.
Maximum Power
Regarding technical specs, keep your eye on capacity first. Review all the applications and estimate the required load requirements. A power output of 8,000 – 10,000 is redundant for home appliances.
You must also pay attention to its peak starting wattage, which implies the amount of electricity to trigger the operation. A generator should come with a 120V or 240V outlet.
Fuel Option & Capacity
There are two fuel options for Firman products – gas or propane. We recommend the latter for flexibility and increased runtime. Then take your time on the fuel tank capacity. Fortunately, the brand offers 5-8 gallon tanks – ideal for the office, home, and other needs.
Ease Of Use
You need to take care of the startup mechanism, which makes sense, especially for the inexperienced. Some Firman models offer remote control starting, the most convenient option.
The electrical system is also fine since you do not have to struggle too much to start it. That said, the manual mechanics that require cord pulling may become a nightmare for newbies.
Noise Level Spec
A generator is very noisy, and of course, none is silent. If the sound level is your top priority, look for a Firman engine with silencers. 
Its operation usually produces a scale of about 50 dB, equivalent to an excited conversation between two people or a crowded restaurant. And we recommend you go for this decibel level or thereabouts.
Otherwise, you and your neighbors will suffer from noises up to 90 dB. Any sound above 75 dB poses adverse health consequences with long-term exposure.
Safety Features
A time and current load display are required to put the generator under control. It would be best to go for products with an auto-off feature. This mode protects the engine and equipment against accidents.
Conclusion
Is Firman a good brand? In general, even tough customers can expect good things about these generators' affordable price, functionality, and durability, especially the best-selling models. 
If you are still on the fence to decide on the right item, browse the official website for all products and accessories. Once selected, get what you want at retail stores like Walmart, Home Depot, etc.