The dishwasher is a common household appliance that is widely used throughout the world. But are you clear about the amps for dishwashers? If the answer is no, this post will offer a helping hand. Stay tuned, and keep scrolling down!
How Many Amps Is A Dishwasher?
The amperage requirement of a dishwasher normally reaches 10 amps. However, this number varies greatly, depending on the make and model of the dishwasher you are currently using.
For instance, industrial dishwashers are responsible for greater loads of work by heightening the water temperature, using great pressure to pump water, and drying dishes via the flow of pressured air elements. So they are likely to consume more electricity. The dishwasher amps can fall in the range of 15 to over 20 amps as a result.
Below is a detailed list of the power consumption suited to each dishwasher brand and model that you can consider:
A Bosch Dishwasher
The Bosch brand is no stranger to many people thanks to its products' quality and reliability. Indeed, the Bosch dishwasher draws less amperage than other models on the market, about 12 amps. This number can be translated to roughly 1440 watts of electricity and 120 volts.
A KitchenAid Dishwasher
Another name in this list is KitchenAid, one of the most popular brands specializing in the production of household appliances. The energy usage stands at 15 amps of electricity, which is quite high due to its extensive features.
A Samsung Dishwasher
Moving onto the next brand, Samsung, we get statistics of the dishwasher amp draw, about 15 amps of current. Despite the diverse ranges of Samsung dishwashers, 15 is the standardized number we have concluded based on numerous models.
A LG Dishwasher
LG is another South Korean brand that almost everyone is familiar with. This company is renowned for manufacturing and producing modern and top-quality household appliances, such as dishwashers, refrigerators, televisions, etc. but within the middle-class budget.
The amperage of dishwashers produced by LG has been up to 15 amps since it was equipped with some additional features, namely air-drying wings or larger internal space.
A GE Dishwasher
GE, which stands for General Electric, is a household name in the United States in the field of home products. Its products are quite diverse. For example, the basic and old models only consume about 6 amps, whereas the modern ones can take up approximately 15 amps of power.
A Frigidaire Dishwasher
Although the reputation of the Frigidaire brand is not as widespread as that of GE, the Frigidaire product still has a firm position in the US market. Regarding power usage, a Frigidaire dishwasher uses up to 15 amps, similar to about 1800 watts of power.
A Maytag Dishwasher
Another American brand that cannot be missed in this compilation is Maytag. The potential customer of this brand is targeted at upper-class people, so its goods' general price is above average. However, the dishwasher power draw still falls at 15 amps like other standard products.
What Is The Possible Risk Of Improper Power Rating Connection?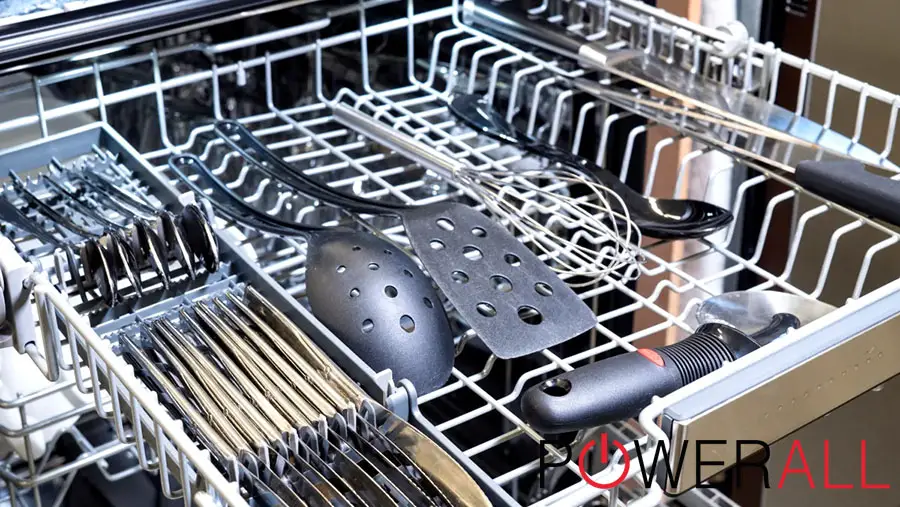 Undoubtedly, each electrical device and system requires different power ratings. For example, a 10-amp dishwasher cannot be connected with the power rating exclusively designed for the 20-amp one.
Accordingly, if you use the faulty power rating, potential problems, such as overloading or electrocution, are likely to be rendered as a consequence. Once this happening has persisted for a while, the device's internal death will await.
Other electrical damages can also be induced by surface leakage. Indeed, water will consequently emanate from this mishap. As an effective electricity conductor, it can trigger some unexpected issues, such as electrical circuits, which are dangerous to the machine and your health as well.
What Are Some Essential Tips To Notice Before Buying A New Dishwasher?
Following are some helpful tips that may come in handy when you are in the dilemma of choosing which type of dishwasher:
Cleaning And Drying Performance
This is the utmost priority you should consider before purchasing any dishwasher. If your dishes and utensils cannot be thoroughly cleaned, harmful bacteria will likely linger, wreaking havoc on your overall health.
Besides, drying is also important. Many machines take the air elements outside and pressurize them to dry the dishes. If this process is not hygienic, your utensils are still filled with bacteria and dirt, although they were washed carefully before.
The Make And Model
The dishwasher brand is a concern that you should also pay attention to as well. Many models consume less electricity than the average, such as Bosch, while still ensuring great efficiency and cleaning performance.
Interior Design
This factor is of paramount importance, as you should select a dishwasher with a large space inside and high capacity volume. This way, more dishes, and utensils can be washed and dried all at once, helping you save lots of time and effort.
The Label
The label entails sufficient information about one dishwasher machine that you should know, namely the electrical power requirement, establishment year, type of model, etc. Thanks to this, you can learn more about how to use and operate your device properly and safely.
Frequently Asked Questions
Does A Dishwasher Need A 20-Amp Circuit?
The answer may depend on your dishwasher's model. Some commercial and electrical types may need this power circuit, while others don't.
Can A Refrigerator And A Dishwasher Be Plugged On A Similar Circuit?
No.
That an electric range circuit takes charge of powering both a dishwasher and a refrigerator is quite dangerous, and you should avoid doing the same. 
There are only about 15-20 amps that a circuit breaker can provide, while a dishwasher may need between 10 and 20 amps, and a fridge requires a current of 7 amps.
Consequently, the electrical overloading problem can be caused, followed by worse scenarios, namely short circuits or even fire. Therefore, you should take close notice of this matter to avert it.
Does A Dishwasher Require A Standard Outlet?
Yes.
If you are too lazy to hardwire your dishwasher, a regular outlet can be a perfect alternative unless certain conditions and requirements are met.
For instance, the amp appliance outlet should not be positioned behind or right next to your dishwasher. If you decide to connect your dishwasher to a particular outlet, try not to plug other electrical appliances into it due to the potential overloading issue.
Is It Better To Hardwire Or Plug In A Dishwasher?
Hardwiring can be a better option for you. Doing so helps you avoid overloading and other potential problems related to electricity. 
However, the hardwiring process is quite complicated, as you are required to execute numerous steps, such as pulling the dishwasher and disconnecting it from the power cord on the wall, etc.
The Bottom Line
After reading our article, we would like you to explore a satisfying answer to how much power a dishwasher uses. If you still have trouble with this topic, please comment below or contact our website immediately.
See more: