Today, electronic devices such as televisions, refrigerators, and microwave ovens make up most of our monthly electricity bills. Although modernization has brought about energy-saving products, this saving is still small for most households.
But what is the average TV Wattage? You must know this to manage your electricity consumption well. Each model will consume a different amount of energy daily, and this number is important, especially when you want to choose the new one. Keep reading to know more about it and pocket a few tips to save electric energy.
How Many Watts Does A TV Use? 
How many watts a TV is varied in models. To be specific, the average TV wattage of common models is 117W, while that number is 58.6W for modern TVs:
Common TV Models: The most commonly used electricity TVs or models that have been produced for a period of time will usually consume about 117W when on, and the amount when on standby is 0.5W.
Modern TV Models: Newer, more modern TV models often have the tag "inverter" or "energy star" and usually use 58.6W when on and 1.3W on standby.
What Determines TV's Energy Consumption
Why is the neighbor's TV electricity bill only $25 a month when it's double that amount at yours? What are the factors that affect a TV's typical power consumption? Let's find out together carefully to be able to reduce this monthly cost.
Usage time: Obviously, if you use the TV 10 hours a day, the cost will be more than someone who uses it only 5 hours a day. It will be based on how long the TV is operating and when it is in standby mode. Although standby power does not consume too much energy usage, it will still be a certain amount in the long run.
Size: A 32-inch TV will consume less energy than a large 65-inch TV. A larger size means it needs more power to operate smoothly.
Age: For today's high-efficiency models, manufacturers, in addition to developing features, also focus on saving energy. "Energy-saving" is a tag often seen in recent production items. 
This clause will restrict older TV models. At the same time, a TV that you have used for many years will decrease performance, which costs more energy to operate.
Screen Type: LCD screens or LED screens are highly recommended for saving energy, while Plasma TV or CRT TV of the same size can consume three times more.
Average Wattage Consumption Based On Screen Size
As mentioned, the bigger a TV is, the more likely it becomes an energy-guzzler. For example, a 24-inch TV uses 19.8W when on and 0.8W on standby (on average). Meanwhile, 55-inch TVs consume 77W and 1.4W for on and standby mode, respectively.
Each different size will consume a different amount; let's take a look at the following average electricity consumption summary:
Wattage
Screen size
On Mode
Stand-by mode
39 inches and smaller
15-50W
1.3W
40-49 inches
30-100W
1.6W
50-59 inches
59-240W
1.7W
60-69 inches
73-300W
0.55W
70-79 inches
82-340W
0.92W
80 inches +
92-249W
0.5W
The reason the average range is so large is that this number is aggregated from different models. Going into more detail, you can look at the average wattage of each specific screen size:
19-inch TV: needs 16.3 watts of electricity per hour. 
24-inch TV: uses about 20W watts. 
32-inch TV: consumes 29.5 watts of electricity. 
39-inch TV: needs 34.8 watts. 
40-inch TV: use 34.2 watts. 
43-inch TV: uses 53.1 watts. 
50-inch TV: needs 77 watts per hour to operate. 
55-inch TV: uses 98.6 watts per hour. 
58-inch TV: needs 82 watts to operate. 
65-inch TV: consumes 130.3 watts. 
75-inch TV: uses 151.4 watts.
Average Wattage Consumption Based On Resolution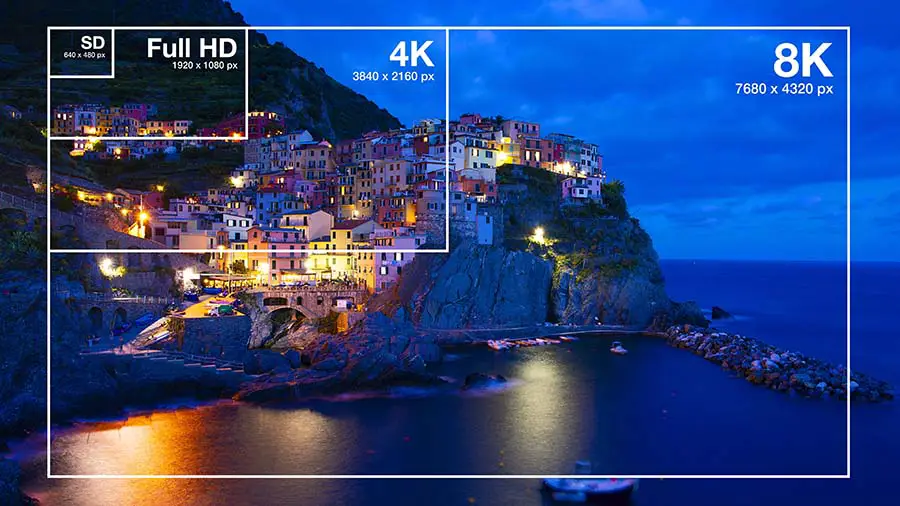 The higher the resolution, the higher the watt of power of the TV. Should you want to watch movies with good, clear picture quality, paying more for electricity costs is natural.
However, if you look at the table of "Common TV Wattage Consumption" below, you will see, that is only true for Normal mode, not for standby mode
Wattage
Resolution
On mode
Standby mode
720p
15-50W
1.4W
1080p
19-75W
0.5W
2160p
46.4-340W
1.1W
In a detailed number, the average watts of power of TV resolution:
720p (HD) resolution: uses 28.2 watts per hour
1080p (Full HD) resolution: needs 36.3 watts to operate
2160p (4K) resolution: consumes 101 watts
According to the above table, when you look for a 2160p resolution TV, it can consume only 46.4 watts per hour. However, if you can't choose the right item, your TV may need up to 340 watts to operate.
Although many other factors affect average consumption, such as screen size and special features of the product, resolution is still one of the first factors worth mentioning.
How Much Electricity Does A TV Use? 
Per Hour
The above tables have say it all, as summarized below:
Depending on the screen size, the electricity amount varies from 16.3 watts to 151.4 watts per hour
Based on the resolution, this amount is between 28.2 and 101 watts
When It's Off
When a TV is Off, this mode is also called "Standby mode", which means your TV is still plugged in but not turned on.  
In "On mode", the consumption will increase if the screen size increases, or the resolution increases, and vice versa. However, this does not apply to "standby mode". The power consumption of standby mode will vary depending on the model.
Screen size: The number is from 0.5W to 1.7W
Resolution: It varies from 0.5W to 1.4W
How To Estimate The Electricity Cost Of A TV? 
The Calculation
Before jumping to the detailed volume of electricity each TV size uses, you can first note the general formula. This is a useful one as it will support you in finding out the more exact number. 
The average number is based on the common models. And there can be a gap between them and yours; although it's small, the monthly electricity bill can have a big difference.
An example is that your TV's Wattage is 100 and operates 10 hours per day. Follow these simple steps with the equation to calculate the number: 
Step 1: Estimate the Power consumed (kWh) = Wattage of the appliance (kW) x operational hrs (Hrs).
Power consumed by your TV: 100×10 = 1000 (Wh) = 1 (kWh)
Step 2: Calculate the Power consumed in a month (30 days) = Power consumed in 1 day x 30
Power consumed by your TV in a month: 1×30 = 30 (kWh)
Step 3: Estimate Electricity bill (cent) = Power consumed (kWh) x Tariff (cent/kWh)
Energy bills: 30×15 =450 cents = 4.5 dollars
Note: The Tariff (cents per kilowatt) can be different based on location
That means the number of kWh of electricity is 30 and you have to pay more than 4.5 dollars per month for running your TV only, excluding other household appliances.
Average Range
So that you can estimate your TV's energy costs faster, we've come up with a statistic based on Screen size and Resolution. This table is made based on the electricity tariff of 15 cents per kWh.
Please note that these numbers are indicative only. In fact, the amounts of electricity will be many differences between TV lines and hours of use:
Based on the popular TV size
| | | | |
| --- | --- | --- | --- |
| Screen size | Daily cost | Monthly cost | Yearly cost |
| 19 inches | $0.06 | $0.41 | $4.86 |
| 24 inches | $0.07 | $0.48 | $5.71 |
| 32 inches | $0.10 | $0.67 | $8.07 |
| 40 inches | $0.12 | $0.81 | $9.69 |
| 43 inches | $0.17 | $1.04 | $12.44 |
| 50 inches | $0.25 | $1.64 | $19.64 |
| 55 inches | $0.28 | $1.76 | $21.13 |
| 58 inches | $0.34 | $2.12 | $25.42 |
| 65 inches | $0.39 | $2.56 | $30.75 |
| 75 inches | $0.41 | $2.54 | $30.50 |
Based on resolution
| | | | |
| --- | --- | --- | --- |
| Resolution | Daily cost | Monthly cost | Yearly cost |
| 720p | $0.09 | $0.54 | $6.50 |
| 1080p | $0.12 | $0.80 | $9.57 |
| 2160p | $0.29 | $0.189 | $22.73 |
Best Energy-saving TVs 
If you're seeking energy efficient models for your new room or replacing the old one, this part is exactly what makes you satisfied. Below are some popular items at different screen sizes and price ranges that users highly recommend.
TCL 55″ Class 5-Series 4K UHD Smart TV
Wattage: 63W
Screen Size: 30, 43, 50, 55, 60 inches
Smart TV: Yes
4K resolution: Yes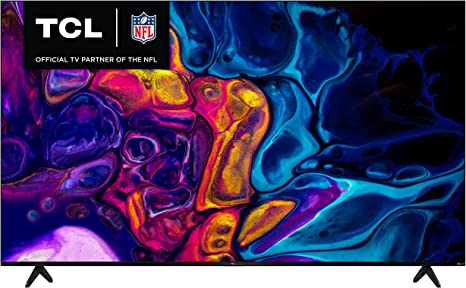 If you need a smart TV equipped with a strong network connection, perhaps you should not ignore the TCL 55″ Class 5-Series 4K UHD Smart TV.
Moreover, it comes in 4 different sizes, and you can consider choosing the one that fits your space. According to information from the manufacturer, there is not too much difference in power consumption between TV sizes.
Samsung QLED QN32Q60RAFXZA Smart TV
Wattage: 28W
Screen Size: 32 inches
Smart TV: Yes
4K resolution: Yes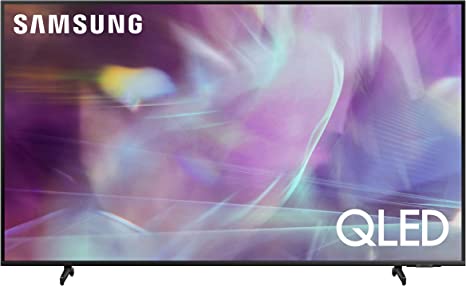 This one is only 28W for this one. The 32-inch screen size is suitable for limited spaces but still brings users the best movie viewing experience.
In addition to the easy networking and other functions of a smart TV, this product allows you to adjust the brightness accordingly. And brightness is also an important factor affecting power consumption.
Samsung UN65MU8000 65-Inch 4K Smart LED TV
Wattage: 98W
Screen Size: 65 inches
Smart TV: Yes
4K resolution: Yes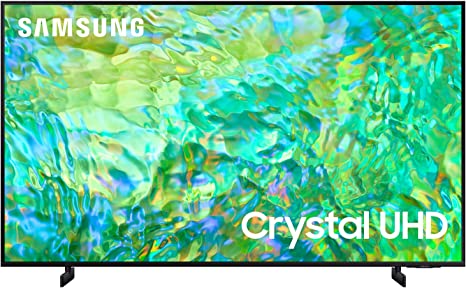 This model will freak you out with the number of 98W. The consumption of 98 watts is not a small number. But for a TV with a 65-inch screen, this level is worth considering as energy-saving, especially for a large family.
Using a processor with integrated AI technology, this product delivers excellent quality pictures. The automatic lighting control mode also contributes to power management.
Conclusion 
Obviously, each item needs a different amount of energy, even when they're of the same size and resolution. That said, the information we have provided is based on the average range for reference.
The two main factors that affect power consumption are screen size and resolution. That's why you can consider it first before choosing the most suitable model for your house.
See more: How Many Watts Does A Box Fan Use?