A space heater is one of the most wonderful and functional devices that humankind has ever invented. This is a small but efficient device that helps warm up your spaces quickly, especially on cold winter days.
Yet, are you curious about its power consumption? What does the average cost to run electric heaters entail? Contemplate this article and find your own answer.
How Much Electricity Does A Space Heater Use?
Despite its compact size, it consumes a great load of energy. A typical space heater's power usage falls at 1.5 kilowatts per hour.
However, this figure can greatly vary due to several factors, such as the product model or household needs. Accordingly, if you manage this device wisely and properly, the electricity bill may not be as atrociously high as expected.
How Can I Calculate The Electricity That A Space Heater Uses?
Below is a comprehensive tutorial that helps you achieve the result of your space heater's energy consumption.
First, you have to locate the wattage information of your appliance that is printed on the product label. If you cannot spot it, try to find and open the instruction manual. This data will inform you of the power amount that a space heater needs to operate efficiently per hour.
Afterward, try this simple formula: The figure for watts of electricity that you have just obtained X the average hours of usage. The outcome is what you are looking for.
But it would be best if you remembered that your electric bill would be calculated and measured in the kilowatts unit. Hence, you should divide that result by 1,000 to reap the final number. Good luck!
What Are Some Prevalent Kinds Of Space Heaters And Their Wattages?
Following is a list of five space heater types that are trusted by numerous families:
Baseboard Model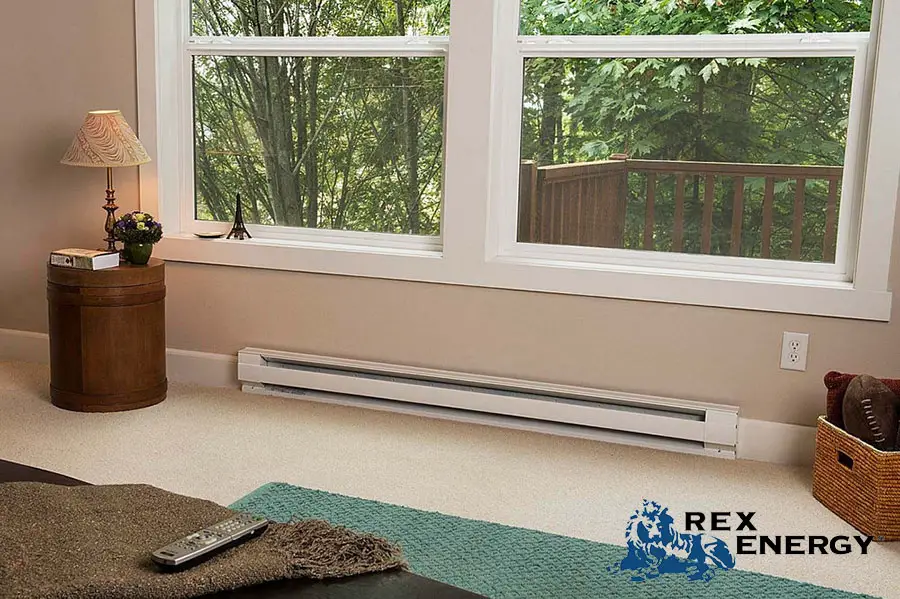 This space heater consumes about 1500 kilowatts of electricity hourly, which costs you between 60 to 250 dollars to purchase. Its operation feature is quite special, drawing air elements via vents and heating them by coils.
Thanks to this wonderful design, it can be used to warm only one room in your entire house, which is of great convenience. However, the heat released from the device is not well-circulated, and the immobility issue also needs to be concerned.
Parabolic Electric Space Heater
This model is cheaper than the one mentioned earlier, requiring roughly between 40 and 100 dollars to buy. The total amount of power that it may take up is estimated to reach nearly 1500 watts.
Due to the low price, its efficiency ratings are not good enough. Indeed, it cannot heat a large room due to limited energy efficiency. Besides, a cooling fan is not added so that the room may be excessively warmed up and, in turn, pose a threat to people inside.
Ceramic Model
The electricity consumption is similar to that of most space heaters, at 1500 watts on an hourly basis. The ceramic model is equipped with many plates to heat the natural airflow and a heater fan to disperse the excess heat if needed.
Its market price is also reasonable, at about 30 to 70 dollars, but the effectiveness is undeniable. An oscillating feature helps ensure users' safety and avoids unexpected accidents. Nevertheless, some limitations, such as loud fan noise or residual heat after the heater is switched off, can be enumerated.
Convection Model (Oil-filled Heater)
The Convection heater consumes approximately 1.5 kilowatts per hour, and you need to pay between 50 and 120 dollars to possess one. An outstanding feature of this model lies in an oil-filled compartment. Heat mainly derives from the burned oil, which circulates through the vent.
Given its strength, the device's capacity is great, allowing it to warm larger spaces up without a hitch. But, it may take a while for the whole room to be fully heated.
Conventional Space Heater
The hourly energy amount is in the range of 1500 watts for each hourly use. Its price is also recorded as the cheapest in the list, at only 20 to 60 dollars.
A striking plus of the heater is shown in the "fan only" option. Thanks to this function, you can turn it into a cooling machine in hot weather.
Nonetheless, there are two problems that manufacturers should resolve immediately. The heat is not well-directed, and fire incidents can arise at any time due to out-of-date design, exemplified by a lack of automatic shut-off.
How To Use Your Space Heater More Efficiently
Some tips as follows may lend you a helping hand under a few circumstances:
You should remember to switch a space heater off when you no longer use it. This act can help you save lots of money.
Most heaters are not equipped with a thermometer or temperature control device. Therefore, it is strongly recommended that you install a thermostat in your room to gain the most precise statistics of the room temperature.
In some situations, a central heating system may be a better option. This is because when your room is full of people, the warm-up efficiency of an individual heater will likely reduce.
You should run a space heater in a small room so that the heat will be released and spread throughout the space more quickly.
Pay attention to your curtain. Close it off in the nick of time after you activate a heater to avert the heat from dissipating away.
Try to choose a heater that can satisfy your needs and requirements. It is unwise if you select a small-capacity one to warm a meeting hall up.
Read and dive deeply into the manual of instructions before you start to use your space heater.
Some Notes When Running Your Space Heater To Save Money
Don't operate a heater in an empty room.
Avoid using a space heater outdoors.
Don't use the extension cord as an additional component of a space heater.
Don't place flammable materials near your space heater.
You are advised to purchase a heater that can be automatically disabled.
Avoid installing your space heater in some hot areas.
Selecting the one equipped with a thermostat is an optimal option.
Don't keep your heater working overnight frequently, as fire hazards can be easily rendered.
Frequently Asked Questions
What Is The Cost Of Running A Typical Watt Heater?
0.2 dollars is the cost to run a 1,500-watt heater per hour. If you want to know the cost of running a 700w heater, $0.1 is the total.
How Much Does It Cost To Use A Space Heater In 24 Hours?
If you run your heater continuously during the day, you need to pay 4.8 dollars in total. This figure is obtained by multiplying the number of hours (24) by the cost of electricity that a space heater consumes within an hour ($0.2).
What Is The Best Time In A Day To Use Your Space Heater?
There is no denying that off-peak hours are a perfect time to run this device, especially in the morning when almost everyone is going to their workplace. During this period, the electric rate is not disrupted, and it is also cheaper to use.
What Is The Size Battery Suitable To Back Up A Space Heater?
Most batteries have energy ratings between 4 and 5 kW, while a heater can consume up to 1.5 kilowatts per hour. Thus, you should use various batteries together to maintain your heater's operating capacity.
The Bottom Line
We hope you can grasp essential knowledge about the power amount that a space heater requires. If you find our post helpful, please forward it to more people as an encouragement to our team.
---
---
See also: