Murray circuit breakers are the best-suited option for the Murray panel. However, because this brand is being phased out of today's market, you should be aware of other available items. What breakers are compatible with Murray?
Choosing a suitable circuit breaker is critical to ensure the system's safety and normal electrical current. This article will detail some Murray breaker replacements. Let's scroll down for useful information. 
What Breakers Are Compatible With Murray?
Fortunately, we have numerous choices of breakers that can work well as the Murray breaker replacement. They include Siemens, Square D, Cutler-Hammer, etc. 
They will have some similarities between some brands that allow you to safely replace the breaker without fear of an arc fault in the main system. 
When purchasing suitable breakers to replace, you might consider the following factors:
Size: this is the most important consideration when selecting a breaker. The new circuit breaker should have a similar size to the Murray one.
Brand: Your panel box can include a list of compatible brands. However, the older your box, the more likely the information has eroded or vanished.
The model number: you can see it on the breaker or on the packaging box. Regardless of brand, the appropriate breaker will likely share the same model number with the one you want to replace.
Professional advice: If you are unsure which circuit breaker is best for your system, consult a professional electrician. The electrician can advise you on which circuit breaker is compatible.
Siemens
Murray is a Siemens sub-brand. Thus, these two often share similar features. According to the manufacturer's substitution letter, Murray panel items manufactured after 2002 (January) can be interchangeable with Siemens CB. These CBs are UL listed for use with the Murray panels mentioned above.
Moreover, you should remember: only Murray items manufactured after 2002 were cross-listed with the Siemens brand. 
For other Murray load centers manufactured prior to that year, please refer to its wiring diagram located inside the panel door to determine the assigned breaker types designed specifically for the panel.
---
---
Square D
The next brand we want to suggest to you is Square D. 
Because of the same mechanics as its Murray counterpart, Square D hits close to the requirements of a suitable replacement for Murray CB. 
These breakers are distinguished by their dependability, high durability, ease of installation, and usability. Square D is also a well-known brand that can be found almost anywhere.
One of their most notable characteristics is that they are extremely safe to use, particularly when handling their electrical components.
---
---
Cutler Hammer 
Murray circuit breakers can also be replaced with Cutler Hammer breakers. These products are famous for their ability to control electrical current for an extended period. It implies that these breakers are durable and wear out over time.
They are generally compatible with Murray breakers. Yet, you must first check the local code to ensure whether installing the Cutler Hammer circuit breaker is legal.
---
---
What Is The Suitable Number Of Circuit Breakers For Murray?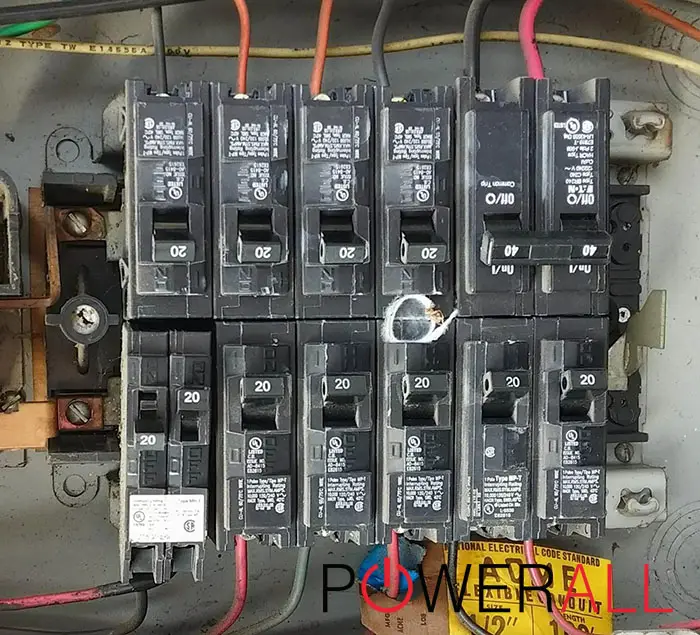 A Murray CB is a single-pole and thermal-magnetic breaker. As a result of the Murray structure, some owners have exceeded the limits of the breakers.
Murray breakers fail regularly. They are often caused by an excessive current flow, which exposes the bimetal to intense heat. Moreover, the strips deteriorate over time as a result of the effects of currents, making your breaker work less effectively.
While Murray CBs are no longer available, the main panel is compatible with various breaker types, such as Fault Ground Circuit Interrupters, Special Application, Quadplex, Triplex, and Duplex Plug-in breakers.
The number of breakers is always dependent on your requirements and its load center. Always make sure you follow NEC (National Electrical Code) regulations and the maximum constant load capacity of the main breaker panel.
Pay attention to the specifications of Murray load centers if you're using Murray breakers compatible with them or other brands. For example, Rock Solid has a 100A-225A ampere capacity and can accommodate 12 – 60 circuits.
FAQs
Are Square D And Siemens Breakers Interchangeable?
Yes, you can switch between some Square D circuit breakers and specific Siemens without a hitch. Not all Square D circuit breakers will be interchangeable with Siemens. 
So, it is critical to consult an expert or check the compatibility chart inside your breaker box. This helps ensure that you choose the suitable breaker for your panel.
Which Breakers Are Interchangeable?
Breakers that have been tested and accepted by their manufacturer for an electrical panel are referred to as specified breakers. 
Interchangeable breakers are products tested in the panels for which they are permitted and are identical to specified breakers, often by a third party such as Underwriter's Laboratory (UL).
Can You Mix Circuit Breaker Brands?
Yes, you can because some of them can be interchangeable. 
Yet, experts recommend using the correct brand of breakers. While some breakers are compatible with each other, others are not, even if they appear to be. 
Replacing one breaker brand with another can be harmful. It can damage your breaker or panel warranty, and result in a failed electrical inspection.
Are Murray And Eaton Breakers Interchangeable?
Yes, some Eaton breakers can be compatible with Murray.
Eaton's UL-rated breakers are designed and proven to be mechanically and electrically interchangeable with circuit breakers from General Electric, ITE/Siemens, Thomas & Betts, Crouse-Hinds, Murray, and Square D.
Conclusion
The Murray products will no longer be manufactured. So, finding another compatible breaker is critical. 
Siemens is the finest breaker brand equivalent to the original Murray. Indeed, the brand is known for high-quality goods and is Murray's UL-listed brand.
Finally, always remember to be careful and check the Murray circuit breaker compatibility chart while choosing a substitute breaker to ensure safety and reduce the risks of damaging the electrical system.